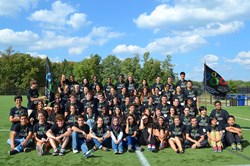 "Developing students into effective, visionary leaders will be accomplished by instilling a global perspective and understanding of the economic, political, environmental, religious and cultural issues that are reshaping our world."
Richmond, Virginia (PRWEB) October 10, 2013
Collegiate School in Richmond, Virginia is hosting an experiment in product marketability and social entrepreneurship on Thursday, Oct. 10 that will permit 45 international high school students and a group of Collegiate seniors to showcase the solutions they've developed for some of the world's most pressing environmental problems.
During DesignPitch (which will be held at 6:30 p.m. EST in the Oates Theater and Sharp Academic Commons at Collegiate, a K-12, co-ed independent school), teams comprised of students from different countries will stand before an audience to garner support for the products they've collaboratively created to combat issues ranging from pollution in China to rhino poaching in South Africa. After these young entrepreneurs share their visions, students, parents and other guests at the event will engage in real-time voting to select their favorite pitch.
DesignPitch is one of two culminating events for Collegiate's 3rd annual International Emerging Leaders Conference – a 10-day program during which 18 Collegiate seniors partner with students from China, India, Israel, Italy, Malaysia, Mexico, Morocco, Spain, Lebanon, and South Africa to foster global collaboration, learn product design strategies, and gain leadership and critical thinking skills mastered by successful social entrepreneurs. The conference is believed to be the first curriculum-based program of its kind hosted at an American school during the academic school year.
Along with brainstorming and planning sessions on Collegiate's campus, the student delegates have visited the Science Museum, Dominion Resources, MeadWestvaco, the da Vinci Center for Innovation at Virginia Commonwealth University, The Merhige Center for Environmental Law at the University of Richmond, and the Weinstein International Center at U of R, where they have received guidance and inspiration from prominent scholars and business leaders. The 45 international students are also learning about life in the United States by living with Collegiate host families during their stay.
Student projects developed during the first two years of the Emerging Leaders program included one multinational group brainstorming with MeadWestvaco engineers about a product to transport water more conveniently in Sub-Saharan Africa and another global student team exploring how to provide better preventative medical testing in developing countries.
This Richmond portion of this year's conference will wrap up at Collegiate on Friday, Oct. 11, with an after-school Cultural Fair that allows Collegiate 3rd and 4th graders and the program's host families, to learn more about the 10 participating nations and their visiting students and teachers. Conference delegates will travel to Washington, D.C. for a weekend of touring before returning home on Sunday.
Collegiate School is a K-12, co-ed independent school based in Richmond, Virginia. Founded in 1915, Collegiate has been recognized as a leader in global education and is routinely sought out by educational institutions seeking to enhance their global studies curriculum and programs.
For more information on the International Emerging Leaders Conference, please visit http://www.CollegiateEmergingLeaders.org or http://www.youtube.com/watch?v=z-KGDB5KKKQ.
To schedule interviews, obtain more background information or discuss potential story angles, contact Stacy H. Adams at stacy_adams(at)collegiate-va(dot)org or (804) 726-3270.