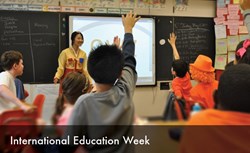 New York (PRWEB) November 18, 2013
Cultural Vistas will host a series of educational events on Friday, November 22 that will bring university students and young professionals from around the world into New York City elementary school classrooms to lead presentations about their home cultures, customs, and traditions.
This marks the fifth consecutive year that Cultural Vistas has organized this initiative as part of International Education Week, an annual celebration of the benefits of international education and exchange worldwide.
Cultural Vistas staff will accompany 10 exchange students and professionals in several cohorts as they visit third and fourth grade classrooms at P.S. 321 in Brooklyn and P.S. 254 in Queens.
The group participating include individuals representing Argentina, Australia, China, Germany, and South Korea, all of whom are currently in the United States on intern and trainee exchanges as part of the U.S. Department of State's Exchange Visitor Program.
Join the #IEW2013 conversation on Twitter.
Since beginning this effort in 2009, these events have proven to be an enriching learning experience for our exchange visitors, staff, participating elementary school students and teachers alike.
The classroom exercises provide young Americans with the chance to learn about foreign cultures and allow our exchange visitors to learn more about U.S. culture and its educational system in a unique setting.
Cultural Vistas is authorized by the U.S. Department of State as an Exchange Visitor Program sponsor in the Intern, Teacher, and Trainee categories of the J-1 Visa. The Exchange Visitor Program fosters global understanding through educational and cultural exchanges. All exchange visitors return to their home country upon completion of their program in order to share their experiences.
About International Education Week
International Education Week (IEW) is a joint initiative of the U.S. Department of State and U.S. Department of Education that aims to promote international understanding by encouraging the development of programs that prepare Americans to live and work in a global environment and attract future leaders from abroad to study, learn, and exchange experience in the United States. - Learn more at eca.state.gov.
About Cultural Vistas
A nonprofit organization, Cultural Vistas has facilitated professional exchange programs for visitors coming to the United States and Americans seeking overseas experiential learning opportunities since 1950. It annually serves more than 5,000 students, professionals, and emerging leaders through career-focused international internships, educational study tours, language immersion and cultural exchange programs in the United States and around the world. – Learn more at culturalvistas.org.