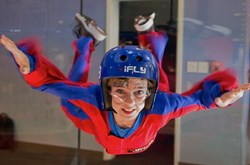 "There is no falling, no jumping and no losing your stomach. All ages can fly."
Dallas, Texas (PRWEB) November 18, 2013
iFLY, the world's leader in vertical wind tunnel manufacturing and operations, announces today that its newest indoor skydiving location in North Texas is ready to commence flight operations. iFLY Dallas is the second indoor skydiving facility to open in Texas and features the world's most advanced wind tunnel for flyers of all ages and capabilities. Families and friends ages 3-103 will have the opportunity to soar in wind speeds of up to 175 mph within the 14' diameter and 48' tall glass flight chamber.
"Over the past few months, the response from future flyers has been overwhelmingly positive," said Stuart Wallock, chief marketing officer of iFLY. "We have had interest from parents planning future birthday parties, companies scouting locations for team events and enthusiasts looking to make reservations for their inaugural flights. We are thrilled to be opening our doors in time for the holidays to give people the opportunity to experience flight for the first time or to make someone's holiday gift an iFLY gift card."
The experience of indoor skydiving mimics the exact experience of free fall skydiving without the parachute or the risk. Customers fly accompanied by a certified instructor, flying at their own level of comfort, from a few feet off the ground with basic belly flying to more aerial gymnastic maneuvers at greater heights. There is no falling, no jumping or losing your stomach. To date, over 5.5 million customers worldwide have flown in the company's wind tunnels around the world.
"This exciting new adventure in Frisco will perfectly compliment the wide variety of family friendly offerings that we have. It is unique and is sure to please kids of all ages." said Marla Roe, executive director of the Frisco Convention and Visitors Bureau.
The new iFLY Indoor Skydiving facility is located in Frisco at the Stonebriar Centre Mall on South Highway 121 and is the company's 27th location in operation. iFLY Dallas caters primarily to entertainment customers out for a day of fun with family and friends, corporate customers looking for a unique team outing, educators interested in innovative science field trips for students and competitive indoor skydiving athletes.
About iFLY
Austin-based iFLY Holdings is the world leader in the manufacture and sale of wind tunnel systems for recreational indoor skydiving, competitive skydiver training and military training. Under the brand names iFLY, SkyVenture, Airkix, Paraclete and Freezone, the company has 27 facilities operating around the globe, with expansion plans rolling out over the next few years.
iFLY Dallas Indoor Skydiving
8380 S.H 121
Frisco, TX 75034
(214) 618-4359
For PR and press inquiries please contact:
Jennifer Green (512) 693-4722, jennifer(at)skyventure(dot)com
Stuart Wallock (512) 351-7767, pr(at)iflyworld(dot)com
For more information about reservations and bookings at iFLY Dallas please contact:
General Reservations: (214) 618-4359, info(at)iflydallas(dot)com
Group Sales: Shelly Jackson (214) 785-1243, shelly(at)iflydallas(dot)com