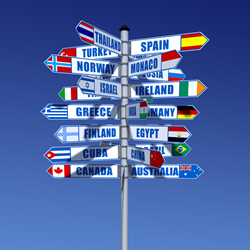 To help travelers save on their holiday flights, hotels and entertainment, luxury travel experts at IFlyFirstClass offer seven tips for saving on high-season travel.
Chicago, IL (PRWEB) December 14, 2016
Travel during the holidays can take a big chunk out of consumers' wallets, but there are several strategies holiday travelers can take to minimize their costs. To help travelers save on their holiday flights, hotels and entertainment, luxury travel experts at IFlyFirstClass offer seven tips for saving on high-season travel.
First, many travelers will find savings simply by using a smaller airport near their destination. The world's major airports are usually extremely crowded during major holiday seasons. Flying into or out of a nearby regional airport not only saves money, it also helps travelers avoid the time-consuming crowds found in large airports. For Los Angeles, travelers can try Santa Ana, Burbank or Long Beach airports. Instead of London, Gatwick Airport is a good alternative. In place of Paris' Charles de Gaulle, many travelers prefer Orly. Most major cities have at least one nearby regional that offers better value and more convenient service.
Second, timing is everything when it comes to booking upcoming travel. Travelers who need to schedule a last minute flight will find better deals through a reputable travel agency. That's especially true for those services like IFlyFirstClass.com that specialize in discount luxury and last minute fares. Overnight, red-eye flights are also usually cheaper than daytime flights. Tuesday, Wednesday and Thursday flights are usually less expensive options too.
Rather than incur frustrating fees for checked baggage, travelers should also consider some economical alternatives. Those traveling with holiday packages should get an estimate on the cost of posting the packages ahead of time. In many cases, it's cheaper to send packages in the mail in order to avoid the cost of checking extra baggage at the airport. Sending packages ahead of time also helps travelers avoid the hassle of carrying extra baggage around the airport. If travelers simply must bring holiday gifts on their flights, they should check to see if their airlines offer discounts to certain credit card holders or association members. A final way to save on checked baggage fees involves a bit of risk. Some airlines offer passengers complimentary baggage check immediately before boarding to help balance the plane's load. For travelers who are willing to take a chance, this spur-of-the-moment baggage check is a money-saving boon.
There are a variety of ways to save on ground transportation too. In this area, a little research before the trip can pay big dividends. Rental car companies in popular tourist destinations often offer discounts when cars are booked online. Again, travelers should check their credit union, credit card and alumni memberships for potential discounts on rental car companies. Avoiding the rental car cost completely is also a good option, especially if travelers are uncertain about driving in unfamiliar or snowy, icy conditions. Most major airports have commuter trains and buses available on-site to provide transport to the city center.
With house-sitting, house-swapping and vacation rental apps now widely available, travelers have more affordable lodging options than ever. Travelers can sign up for house-sitting services or check into house-swapping availability for the greatest savings. The benefits of these options also ensure that travelers have the use of a kitchen, thereby saving money on dining costs too.
Booking a stay at mom-and-pop hotels and bed and breakfast facilities are also good ways to save on lodging costs. They offer a homey, more personal atmosphere that is often appreciated during the holidays.
Finally, travelers can save on travel expenses during the holidays by talking to locals in the destination city. Online travel and city forums can provide excellent information about local deals. Once in the destination city, travelers should continue to chat with locals around town. Residents can provide tips for affordable, good-quality restaurants in town as well as low-cost or free activities in the area.
"IFlyFirstClass is committed to providing travelers with low-cost, luxury flight options throughout the year," said IFlyFirstClass Travel Expert Dmitry Richie. "Our travel experts are always happy to help consumers find the best bargains available, even during peak travel season."
ABOUT IFLYFIRSTCLASS
Providing travelers access to deeply discounted first class, business class and last minute flights, IFlyFirstClass is a leading online travel agency. Based in Chicago, the company provides travelers with luxury travel deals on top-rated airlines to hundreds of destinations around the globe.