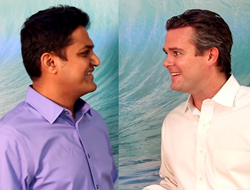 Crowdfunding our own fundraising was an easy decision, as people can own shares in iFunding for as little as $10,000.
New York, NY (PRWEB) December 02, 2014
iFunding, the company that makes real estate investing simple through crowdfunding, announces it is raising a corporate financing round of up to $2 million. The round of financing uses the same types of crowdfunding techniques that iFunding applies to its day-to-day business in real estate investment. This is another sign of evolution in the crowdfunding sector and real estate financing.
iFunding will use the funds for expanded operations, technology enhancements, marketing and sales. It is performing this fundraising through Crowdfunder (see http://www.crowdfunder.com/ifunding), the number one ranked equity crowdfunding site on Google, with over 77,000 registered users and $56 million committed across investments to-date. This current financing round follows on earlier investments by select strategic partners, customers and colleagues into the company. A "Series A" venture round is planned for 2015.
iFunding is one of the longest-operating real estate crowdfunding sites, connecting thousands of registered investors with real estate developers and opportunities to finance their building projects. The company has raised tens of millions of dollars for projects ranging from new home construction or refurbishments, to commercial spaces, condominium communities, mobile home parks, apartments and mixed-use urban facilities. iFunding has been covered in publications including the Wall Street Journal, the New York Times, Forbes, Seeking Alpha, Real Estate Weekly, The Real Deal, Realty Today, Multi-Housing News and Urban Land magazine.
Accredited investors wishing to participate in iFunding's fundraising can visit the Crowdfunder investment portal for more information. On the project web page, readers will find information including a strategy and investment presentation, and introductory video. Alternatively, interested parties can contact iFunding's Investor Relations team directly at: investors(at)ifunding.co, or call the investor team at 844-367-4386, extension 0. Individuals must certify their status as an accredited investor in order to participate.
Founder and CEO of iFunding, William Skelley, noted "Our team is excited to have been working with thousands of investors and real estate developers in our first full year of operations. Now, we plan to expand our real estate operations, enhance our technology platform with more user-friendly features, and broaden our marketing and sales activities to reach more investors and developers. Our growth also creates a compelling case for investors to participate in this early success stage of our company." Co-Founder, Sohin Shah, added that "the crowdfunding approach to our own fundraising was an easy decision for us. It opens this opportunity to a broad audience, as people can own shares in iFunding for as little as $10,000."
iFunding has chosen Crowdfunder to list its fundraising campaign. Entrepreneurs use the platform to tell the story of their business and raise investment from a community of institutional and individual accredited investors. iFunding selected Crowdfunder because of the volume of investor activity on the site, and the easy-to-use web application that supports investor research and interactive communications. iFunding's goal is a $1 million raise, with a $2m maximum, on Crowdfunder.
iFunding also is partnering with Accredify for online verification of an individual's accredited investor status. Instead of individuals having to manually verify status each time they invest in private placements, Accredify securely automates verification via tax records or collects letters stating one's liquid assets. The platform also allows investors to share their accredited status easily across multiple investments they make, all the while keeping sensitive information confidential.
About iFunding
iFunding is a leading real estate crowdfunding platform, facilitating equity and debt fundraising for single family homes, multi-family residences, apartment towers, retail locations, office buildings and mixed-used buildings. iFunding provides opportunities for accredited investors to invest in institutional-quality real estate deals, with a minimum investment of just $5,000. The company oversees each deal throughout its lifespan, providing extensive information and transparency to give investors insight and oversight into their investments. iFunding is based in New York with investments across the U.S. Visit http://www.ifunding.co for more information, or connect with us on LinkedIn at http://www.linkedin.com/company/innovational-funding, on Facebook at http://www.facebook.com/iFunding, or via @inno_funding on Twitter. The corporate phone number for investor and operator inquiries is 844-367-4386.
iFunding Contact:
Scott Lichtman
Marketing
203-747-8557
press(at)ifunding.co