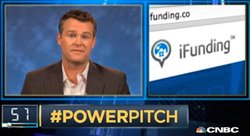 iFunding has put together a great team and the market is huge.
New York, NY (PRWEB) December 11, 2014
iFunding, the real estate crowdfunding platform that makes investing simple, has appeared on the financial television segment "Power Pitch" on CNBC. The Power Pitch series features growing companies with unique concepts, being critiqued by experts and investors specific to their industry. The segment can be viewed at http://www.cnbc.com/id/102254127.
CEO William Skelley presented iFunding's business case in the 6-minute segment. The judges comments included: "[iFunding] has put together a really great team… and it's a huge space." One question raised was how iFunding's business model aligns with the goals of its investors, to which Skelley noted that most of iFunding's profits are achieved only if the real estate projects first generate profits for its investors and real estate partners. Overall, iFunding received two thumbs-up out of three votes from the judges, with a 72% favorable "I'm In" vote from the viewing audience.
The judges were:

Dolly Lenz, a real estate executive who has sold over $8.5 billion in properties during her career, a record that has earned her the ultimate "Stratosphere Award", a level of achievement of which she is the sole recipient. After 25 years with Sotheby's International Realty and Douglas Elliman, Dolly founded Dolly Lenz Real Estate with a team of 20 industry veterans.
Ryan Serhant, Executive Vice President and Managing Director of Nest Seekers International. He has sold over one billion dollars in real estate and was ranked as one of the top 20 real estate brokers out of 28,000 in New York City by The Real Deal Magazine.
Alicia Syrett, CEO of Pantegrion Capital, an angel investment vehicle focused on seed and early stage investments. She is a member of several angel networks including Golden Seeds and New York Angels, and currently serves on the board of New York Angels. Prior to founding Pantegrion, Ms. Syrett was the CAO, Managing Director and first employee of a multi-billion dollar private equity firm.
Power Pitch is a weekly series on CNBC's "Power Lunch," where CEOs and founders of cutting-edge start-ups have to convince a panel of experts that their business has what it takes to succeed. The series shines light on a new wave of leaders, bold ideas, fascinating trends, and big money. The iFunding television segment originally aired Wednesday, December 10, 2014.
This video profile of iFunding comes in parallel to the company's fundraising for equity in its own company. Since December 1, 2014, iFunding has offered shares in its company to accredited investors via the Crowdfunder platform, at http://www.crowdfunder.com/ifunding. It has received commitments from individual investors of over $1 million in the first week and is continuing open subscription toward its $2 million target through mid-January, 2015.
William Skelley, CEO of iFunding commented, "the iFunding team is making strong progress in terms of operational growth, corporate fundraising, and market awareness. Our appearance on CNBC is one more step toward sharing and validating the real estate crowdfunding concept for a wide range of investors."
About iFunding
iFunding is a leading real estate crowdfunding platform, facilitating equity and debt fundraising for single family homes, multi-family residences, apartment towers, retail locations, office buildings and mixed-used buildings. iFunding provides opportunities for accredited investors to invest in institutional-quality real estate deals, with a minimum investment of just $5,000. The company oversees each deal throughout its lifespan, providing extensive information and transparency to give investors insight and oversight into their investments. iFunding is based in New York with investments across the U.S. Visit http://www.ifunding.co for more information, or connect with us on LinkedIn at http://www.linkedin.com/company/innovational-funding, on Facebook at http://www.facebook.com/iFunding , or via @inno_funding on Twitter. The corporate phone number for investor and operator inquiries is 844-367-4386.
iFunding Contact:
Scott Lichtman
Marketing
203-747-8557
press(at)innovationalfunding(dot)com