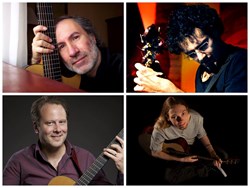 Prepare to be transported to another dimension.
Owings Mills, MD (PRWEB) December 06, 2013
IGN founder Brian Gore will be joined by Italy's Pino Forastiere, England's Mike Dawes, and Argentina's Quique Sinesi. The Gordon Center is the second stop for International Guitar Night (IGN) American tour, so don't miss this opportunity to hear some of the finest guitarists in the world.
IGN is the world's premier touring guitar jam session, each show bringing together the most interesting and innovative acoustic guitarists to exchange musical ideas in a public concert setting. Gore founded IGN in 1995 as a forum for the world's finest guitarists/composers to play their latest original songs and share musical ideas and talent with their peers. For each tour, founder Brian Gore invites a new cast of guitar luminaries to join him for special evenings of solos, duets, and quartets that highlight the dexterity and diversity within the world of acoustic guitar.
The music of Italian guitarist Pino Forastiere comes from a solid background in classical, contemporary and rock music, evolving into a style defies categorization. "Each composition is a unique journey of impeccable technique and melodic invention. Forastiere is a scientist of the guitar, but a scientist with soul" (Echoes.org). And so this formula for Forastiere is one that is working well for the IGN, so "prepare to be transported to another dimension" (Jam Magazine). To Preview a video, watch here.
Mike Dawes is hailed as one of the world's finest, young finger-style guitarists and performers. In addition to a well-established solo career, he has been a prolific studio musician, having recorded with multiple Grammy award-winning artists. He has some YouTube videos that have gone viral as well. Dawes currently tours as Justin Hayward's lead guitar player, performing Moody Blues classics, something the Evening Post called "Completely Spellbinding."
Quique Sinesi is considered one of the most important guitarists in Argentina for his personal style. His music is based in elements of Tango and Folklore from his country with rhythms, incorporating elements of jazz, improvisation, classical, and world music. He plays a seven-string Spanish Guitar, Piccolo Guitar, and Charango.
San Francisco-based guitar poet Brian Gore is gaining a reputation as one of the most interesting and influential performers of "the next generation". His compositions draw inspiration from myth and modern literature. Gore's music has been featured on NPR's nationally syndicated Echoes Radio, and many other local public radio programs. Gore's strong, well developed melodies and intriguing chord sequences set him apart from the myriad of steel-string fingerstylists who compose in open tunings. His finely crafted poetic "songs without words" take the listener on a spellbinding emotional ride." -Ron Forbes Roberts, Acoustic Guitar Magazine.
Forastiere and Dawes are revered in contemporary steel string guitar circles for their unique mix of melody, improvisation, and hand percussion in which they use strings, the fretboard, and the body of the guitar to incorporate the percussive elements associated with their unique style of playing. Master of many South American melodies and rhythms on both guitar and charango, Sinesi's South of the Border flair is the perfect mix to round out the group.
To purchase tickets, visit http://www.gordoncenter.com/music.
The Gordon Center For Performing Arts is a part of the JCC of Greater Baltimore and its mission is to create a welcoming environment that engages, educates, entertains and expands the horizons of the Baltimore community through exploration and celebration of all types of art and Jewish culture.
The mission supports partnerships within both the Jewish community and the Arts community aimed at fostering greater cross-cultural understanding and appreciation. Furthermore, the goal is to provide meaningful opportunities for life-long learning, exploration of profound ideas, stimulating conversation and community connections.
The Gordon Center for Performing Arts opened in 1995 as a multi-disciplinary arts center. Over the years, the Gordon has presented local, regional, national and international artists in theater, dance, music, comedy, family programming, and created a welcoming environment that engages, educates, entertains and expands the horizons of the Baltimore community through exploration and celebration.