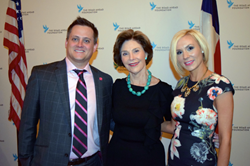 It's especially gratifying to use our talents to create visuals and messages that help in a small way to make a difference in the lives of abandoned children."
DALLAS (PRWEB) December 04, 2014
Ignite Partnership, the premiere product launch agency for national brands, today announced its participation in an annual fundraiser and gala that raised $200,000 for abandoned children.
Ignite Partnership was among four Diamond Sponsors of the event held by the Road Ahead Foundation, whose mission is to help children abandoned by their parents. Titled "The Roads We Choose," the event was held November 12 at The Ritz-Carlton, Dallas, hotel. It featured a keynote address and question-and-answer session with former First Lady Laura Bush.
"We are so pleased to have been involved in such a great event benefitting this worthy charity," said Tripp Bushnell, vice president and co-founder of Ignite Partnership. "It's especially gratifying to use our talents to create visuals and messages that help in a small way to make a difference in the lives of abandoned children."
Proceeds from this year's event went to the St. Ann's Center for Children, Youth and Families, a home in Hyattsville, Maryland, for abused, neglected, and abandoned children and pregnant and parenting teenage women. Ignite created promotional and creative materials for the event, including an Encouragement Card that allowed attendees to put their thoughts, hopes and prayers into words to give to the children at St. Ann's.
Mrs. Bush spoke to the audience about her personal experiences working with children in need and the important role that communities and individuals play in changing the paths of those children's lives. The former First Lady also took questions on everything from her time in the White House to her experiences on the day of the September 11th terror attacks.
The Road Ahead Foundation was established in 2008 with the mission to help children abandoned by their parents. The foundation provides education to businesses and groups on ways to help provide direction and leadership in the lives of these children.
Foundation Founder Michael Koch said, "It was a privilege to bring together this group of concerned and compassionate people who believe that every child regardless of status deserves a voice and a chance. Our efforts in educating America that the worldwide crisis with orphans is not over was well received at the event, with numerous action plans derived from the participating vendors. We were especially honored this year by the participation of former First Lady Mrs. Laura Bush. Her elegance, humor and personality carried the night for a crowd of nearly 200."
About Ignite Partnership
Ignite Partnership is the premiere product launch agency. They guide national brands to market with customized strategies and marketing communications that motivate consumers to buy in. Dallas-based Ignite has launched more than 400 products since 2008. Learn more at http://www.IgnitePartnership.com.