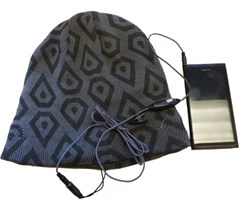 Keep warm whilst using your smartphone this winter.
(PRWEB UK) 30 September 2013
The stylish iHat is fitted with built in speakers and has been upgraded to become hands-free capable. It also includes an integrated in-line microphone, volume control and selection button. This coupled with the excellent quality of sound makes the iHat an absolute bargain.
The iHat is compatible with iPods and MP3 players allowing the wearer to forget the cold as he or she listens to their favourite music.
The speakers cover each ear and provide a real stereo effect. And as an added benefit the iHat does not even have to be recharged as the power is provided by the MP3 player.
Along with the iHat, Touch Screen Gloves – otherwise known as Smart Gloves – are a must have for those wintry days. As most people already know answering a smartphone while wearing gloves is a virtual impossibility. That is not the case while wearing these amazing Touch Screen Smart Gloves which have been featured on Channel 5's "The Gadget Show."
The gloves work effortlessly on a touchscreen. The wool-like fibre has a conductive thread woven into it which allows each finger to make connection and operate the screen as if the gloves were no being worn at all.
These one-size fits all Touch Screen Smart Gloves mean that Smartphones can be used in freezing weather without the hands getting cold.
The website Paramountzone.com was started by founder James Morris in 1999 and has seen rapid growth over recent years due to an affordable range of fun gadgets and gifts. With a priority on originality, the Paramount Zone buying team search far and wide to bring the most innovative gifts and toys to customers.