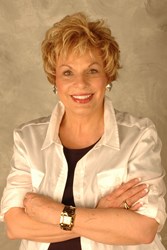 I love being able to bring experts, authors, doctors and just ordinary people to the air waves. Everyone has a story to tell, and Let's Just Talk gives people the opportunity to tell their story."
Cincinnati, OH (PRWEB) January 17, 2014
Let's Just Talk Radio program with host Kathryn Raaker is a globally syndicated radio program featuring guests from all walks of life. This magazine-format program is now airing on I Heart Radio, an all free digital platform where listeners can pick their favorite programs and listen on demand.
Known for her bubbly personality, engaging conversations and educational information, Kathryn is delighted to be part of the I Heart Radio format. "This just allows that many more listeners to tune into our programming," Kathryn said. "I love being able to bring experts, authors, doctors and just ordinary people to the air waves. Everyone has a story to tell, and Let's Just Talk gives people the opportunity to tell their story."
Let's Just Talk has been on the air for ten-plus years, beginning in the Cincinnati market. Kathryn has expanded into TV, with three different programs; The Chef You and I, discussing healthy-eating and featuring chefs from all around the world; and her ever-popular program, Born B4 64 highlights boomers, born before 1964. Guests on Born B4 64 are continuously entertaining listeners with their second and third career choices, reinvention of themselves and life-experiences that all ages love to hear. She also does the Timeless Performers which is an entertainment show featuring all types of entertainers.
Many of the guests on Kathryn's Let's Just Talk Radio program have also been part of her TV programs, giving more information to a variety of viewers as well as listeners. I Heart Radio's platform is the perfect venue for her program, as it allows for archiving Kathryn's programs and gives people the opportunity to listen again if they missed part of a program or want to hear the information again.
I Heart Radio boasts a listener base of 243 million consumers and more than 30 million registered users. It has more than 50 million unique monthly visits to its site and is growing. With the addition of Let's Just Talk, I Heart Radio has more than 1,500 live radio programs.
Kathryn Raaker's Let's Just Talk can be heard on I Heart Radio by visiting their site at http://www.iheart.com.
For more information Contact
Kathryn Raaker
Kraaker123(at)aol(dot)com