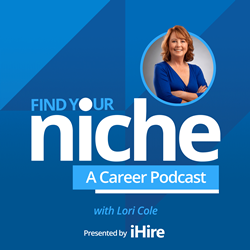 "Today's job seekers want to find work that gives them a sense of purpose – not just a paycheck. 'Find Your Niche' is designed to guide candidates toward the right career path." - Lori Cole, Certified Career Advisor, iHire
FREDERICK, Md. (PRWEB) June 02, 2022
iHire announces the launch of "Find Your Niche: A Career Podcast." Hosted by Certified Career Advisor and iHire Co-Founder Lori Cole, the bi-weekly podcast explores the journeys of job seekers from all walks of life to inspire listeners to find work that aligns with their passions. To listen and subscribe, visit https://go.ihire.com/cjhvn.
Each 25-minute episode of "Find Your Niche" features an interview with a guest from a different industry who has successfully identified and pursued their career calling. In addition to entertaining anecdotes and lively conversations, listeners receive expert insights into trending career topics and tips for making actionable changes in their own professional lives.
"Today's job seekers want to find work that gives them a sense of purpose – not just a paycheck," said Cole. "'Find Your Niche' is designed to guide candidates toward the right career path, whether they're just entering the job market and are unsure where to begin, are considering a career change, or have recently left a role during the Great Resignation in search of their uniquely perfect fit."
Inaugural guests and topics on "Find Your Niche" include:

Brandon Poholchuk, Sales Specialist, Twigg Cycles: Poholchuk, who successfully transitioned from working in government to working in sales, offers advice for people struggling with defining their career path and shares how to discover one's professional strengths.
Carlos Francisco, Regional Security Leader, Meta: With more than 24 years of experience leading the security teams of some of the largest corporations in the world, Francisco discusses how listeners can translate skills gained from law enforcement, military, and federal jobs into the corporate security realm.
JoAnn Beecher, Director of Physician Assistants, Professional Emergency Physicians: Beecher talks about how she found her niche as a flight nurse, then as a physician assistant, by persevering through challenging times and never giving up.
"iHire's podcast has been a long time in the making, and we're thrilled to bring job seekers real-world career advice through a new lens," said Brian Clapp, Content Marketing Director, iHire. "We believe everyone should find work that is meaningful and experience the joy that follows when your passions align with your career."
"Find Your Niche: A Career Podcast" is now available on all major podcast platforms, including iTunes, Spotify, and Apple Music, with new episodes airing every other Thursday. To start listening, visit https://go.ihire.com/cjhvn.
About iHire
iHire is a leading career-oriented platform that powers a family of 57 industry-focused talent networks, including WorkInSports, iHireVeterinary, iHireDental, iHireConstruction, and iHireChefs. For more than 20 years, iHire has combined advanced job matching technology with our expertise in the talent acquisition space to connect job seekers with employers in their desired sector. With an industry-specific, candidate-centric, and data-driven approach to recruitment, iHire helps candidates find meaningful work and employers find unique, high-quality talent – faster, easier, and more effectively than a general job board. Visit http://www.iHire.com for more information.