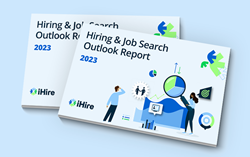 "Although 2023 may bring more of the same trends as the employment realm experienced in 2022, including talent shortages, turnover, and economic uncertainty, our survey points to a sense of optimism in the job market" - Steve Flook, President & CEO, iHire
FREDERICK, Md. (PRWEB) January 18, 2023
iHire today published its inaugural Hiring & Job Search Outlook Report, a forward-looking analysis of the 2023 talent acquisition space. Featuring the results of a survey of 4,430 job seekers and 507 employers from 57 industries, plus exclusive insights from iHire's job and job seeker databases, this new report shares insights into recruiting, retaining, engaging, and developing talent in the new year. Download the full report here: https://go.ihire.com/cqwnk.
Key themes and findings from iHire's survey include the following:
1. Employers are cautiously optimistic for 2023. Although 42.7% of employers surveyed are concerned about economic downturn/recession, 68.1% expect to increase hiring and 49.5% plan to give pay raises in the new year.
2. Job seekers are most concerned with the economy and ageism. 41.1% of workers surveyed believe economic downturn or a recession will impact their career or job search in the new year, followed closely by age discrimination (40.0%).
3. The talent shortage and Great Resignation of 2022 will continue in 2023. 74.1% of employers are concerned with difficulty attracting qualified talent, and 50.8% said the same about employee turnover.
4. Employers and candidates value professional development. 45.8% of employers will provide more professional development and training opportunities to employees in 2023. Similarly, 54.9% of workers expect to pursue more of these opportunities in 2023 than they did in 2022.
5. Companies will move DE&I efforts forward. 33.5% of employers will grow their DE&I efforts in the new year, while only 4.6% plan to pursue fewer DE&I initiatives compared to 2022.
6. Where work gets done matters most to job seekers. Aside from salary, the location of a job (21.8%) and the ability to work remotely (16.9%) were candidates' top two requirements when searching for a new position.
7. The workforce is divided on remote work preferences. When asked about their plans to work in an office or in-person in 2023, 28.4% of candidates said they will do so more in 2023 than they did in 2022. On the other hand, 39.9% of respondents plan to work remotely more frequently this year than last.
8. Employers are thinking like marketers when adopting new recruitment technology. 35.5% of companies plan to use text messaging/SMS tools in 2023 to communicate with applicants, and 11.0% will use candidate relationship management (CRM) systems.
9. Candidates are overlooking the importance of an up-to-date resume. Although 67.0% of workers said they would search for a job in 2023 and 11.1% will search for a second job, just 22.4% said they planned to update their resume.
10. Job boards are going strong: 79.0% of employers plan to use job boards to recruit in 2023, and 34.9% will use them more frequently than they did in 2022.
"Although 2023 may bring more of the same trends as the employment realm experienced in 2022, including talent shortages, turnover, and economic uncertainty, our survey points to a sense of optimism in the job market," said Steve Flook, iHire's President and CEO. "Regardless of how this year progresses, iHire is poised to serve a trusted resource for employers and job seekers to find one another most efficiently."
To download iHire's 2023 Hiring & Job Search Outlook Report, visit: https://go.ihire.com/cqwnk.
Survey Methodology
4,430 job seekers and 507 employers from 57 industries responded to iHire's Hiring & Job Search Outlook Survey in December 2022. Respondents came from iHire's database of job seekers and employers. All decimal points are rounded to the nearest tenth. For many questions, multiple answers could be selected so percentages add up to a sum greater than 100%. In some instances, survey questions were skipped by an individual respondent.
About iHire
iHire is a leading career-oriented platform that powers a family of 57 industry-focused talent networks, including WorkInSports, iHireVeterinary, iHireDental, iHireConstruction, and iHireChefs. For more than 20 years, iHire has combined advanced job matching technology with our expertise in the talent acquisition space to connect job seekers with employers in their desired sector. With an industry-specific, candidate-centric, and data-driven approach to recruitment, iHire helps candidates find meaningful work and employers find unique, high-quality talent – faster, easier, and more effectively than a general job board. Visit http://www.iHire.com for more information.