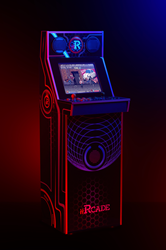 The great thing about iiRcade is we will constantly be adding new games to our device and the list that we have now is only the beginning.
CHICAGO (PRWEB) June 23, 2020
iiRcade, the ultimate connected arcade machine that allows gamers of all ages to own and play their favorite officially licensed retro arcade games and modern games in true arcade style at home, today launched on Kickstarter with special early bird prices starting at $299.
"The day has finally arrived, and we couldn't be more excited," said Jong Shin, CEO & founder of iiRcade. "We want to thank gamers who have been supporting us and following us over the past few months and we hope everyone is as excited as we are about our amazing line up of games, including Dragon's Lair, pre-loaded."
iiRcade is a premium home arcade machine that features a 19" high resolution display, 100 watts dual stereo speakers, 1.8GHz hexa-core CPU, 800MHz max quad-core GPU, 4GB of memory, 64GB of storage, two 8-way premium joysticks with 19 premium buttons, 802.11ac WiFi, Bluetooth 4.2 with wireless headset support, 3.5mm wired headset support, HDMI out and premium wood cabinet.
Early backers will be able to access special Kickstarter rates starting at $299 for the bartop and $399 for the bundle, a major discount from the future retail price of $599 for the bartop and $149 for the cabinet stand.
Unlike other arcade devices, iiRcade is not limited to just a few pre-loaded games, new games can be purchased and downloaded through the iiRcade online game store. All games in the iiRcade online game store are premium, start from $2.99 and the majority of games will be between $4.99 and $14.99.
Over 170+ games have currently been officially licensed and more games will continue to be added to the game list, both before and after launch. A list of pre-launch iiRcade games can be found at iiRcade.com.
iRcade will come with 10 pre-loaded games: Dragon's Lair, Double Dragon, Beach Buggy Racing, Gunbird, Snowboard Championship, Thunder Hoops, Power Balls, Maniac Square, Twin Brats and Fancy World.
"The great thing about iiRcade is we will constantly be adding new games to our device and the list that we have now is only the beginning," said Shin. "We're offering games for the whole family, from retro to modern games."
For more information and to pre-order iiRcade, visit the crowdfunding page on Kickstarter.
About iiRcade
iiRcade is the ultimate connected arcade product for your home. Created by gamers for gamers, iiRcade integrates solutions that us gamers have always dreamed of. Immersive arcade gaming for home, legally licensed games with the real arcade experiences that we grew up with, not having to purchase more cabinets every time we want a new arcade game, small enough for homes yet big enough for comfortable game playing, never-before-seen experiences, affordable arcade gaming. iiRcade is the ultimate arcade solution that enables anyone to own the entire arcade at home.