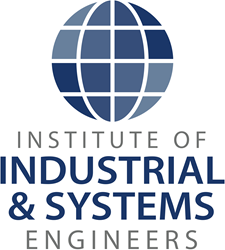 Norcross, Georgia (PRWEB) June 09, 2017
The Institute of Industrial and Systems Engineers (IISE) is proud to announce the 2017 recipients of the IISE Fellow Award, which recognizes outstanding leaders of the profession who have made significant, nationally recognized contributions to industrial and systems engineering. A fellow is the highest classification of IISE membership.
The awards were presented May 22 at the IISE Annual Conference and Expo in Pittsburgh.
The 2017 recipients are:

Russell Barton, The Pennsylvania State University
Steven Butt, Western Michigan University
Antonio Dieck-Assad, Universidad de Monterrey
Natarajan Gautam, Texas A&M University
John Huffman, Spirit Aerosystems Inc.
Gino Lim, University of Houston
Edwin Romeijn, Georgia Institute of Technology
Joyce Siegele, Northside Hospital
Steven Snelling, Boeing (retired)
Warren Thomas, SUNY at Buffalo
Jerry (Mickey) Trimm, University of Alabama – Birmingham
Kai Yang, Wayne State University
Chun (Chuck) Zhang, Georgia Institute of Technology
Shiyu Zhou, University of Wisconsin-Madison
Fellow candidates must excel in their professional careers in management, technical innovation or practice innovation. They also must qualify in two of three specific criteria and excel in at least one: IISE service, interdisciplinary activity and leadership in promoting industrial engineering. Nominees must be at least 40 years old and must have been a senior member of IISE for a specific, consecutive number of years.
About the Institute of Industrial and Systems Engineers: The Institute of Industrial and Systems Engineers is the world's largest professional society dedicated solely to the support of the industrial engineering profession and individuals involved with improving quality and productivity. Founded in 1948, IISE is an international, nonprofit association that provides knowledge, training, networking opportunities and recognition to enhance the skills and effectiveness of its members, customers and the profession.
For more information about IISE honors and awards, contact Bonnie Cameron at (770) 449-0461, ext. 105, or bcameron(at)iise(dot)org, or visit the IISE website at http://www.iise.org.