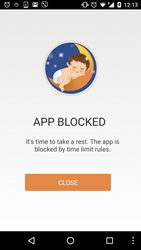 Fantastic new feature! Finally I can limit my young boy's time spent on iPad games! - Jessica
(PRWEB) July 26, 2016
On July 24, 2016, Awosoft released iKeyMonitor v4.7 with a time-based app blocker which helps parents control app usage and limit the screen time across all iOS and Android devices.
iKeyMonitor v4.7 enables users to block apps such as games and social network apps with time limit rules. For example, Children will not have access to specified apps when they are supposed to finish homework, go to sleep, or have dinner with the family around the table.
Parents can also limit the total daily usage, resulting in that apps being completely blocked after the time limit is reached.
When explaining how the app blocker works, Kyle Davis, the development manager of Awosoft had this to say: "First, users set up the time limit rules to decide when the app block should be activated and which apps should be blocked. When triggered, iKeyMonitor will kill the app and display a system alert message immediately."
"We listen to and care about the very needs our users have, because understanding these needs enables us to create the best possible experience. This is exactly why we are constantly updating our software with new and improved features," - Kyle Davis added.
Mark Simon, CEO of Awosoft followed up with: "I truly believe that the time-based app blocker is a very effective tool for parents to control and limit the time their children spend in front of the screens, and keep them safe from inappropriate apps."
Some of the main features of iKeyMonitor:
1. Monitor SMS, Chats, Web-history, GPS Locations
2. Block inappropriate apps and games
3. Set up bedtime limit rules
4. Set up homework time limit rules
5. Set a daily maximum time cap
Furthermore, iKeyMonitor provides users a 3-day free trial for iOS devices which can be installed via Cydia on jail-broken iPhone/iPad. Android users can enjoy the same benefits of the full version via a private online panel.
Find more information about iKeyMonitor at: https://ikeymonitor.com
Download Free Trial: https://ikeymonitor.com/download
About Awosoft Co., LTD.
Awosoft is a leading provider of high-quality internet security solutions for mobile, tablet, and computer users all over the world. It delivers a combination of technology, services, and products that ensures the accuracy, efficiency, and reliability of monitoring jobs. As a company with more than 10 years of experience in the field, Awosoft team is passionate about serving users around the world with their rich expertise and client-oriented culture.