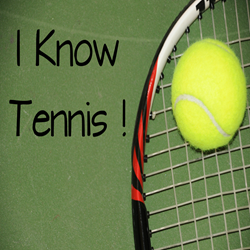 "Every USTA captain needs this app. It's packed with all the rules and so much fun to use."Michael Parretta, Pacific Lutheran University Tennis Team (2008-2012)
Seattle, WA (PRWEB) September 10, 2014
What if the tennis ball hits a tree branch? Do you win the point? What if the ball is discovered to be too soft, do you start all over? What if your tennis opponent slams his racquet on the ground and his racquet accidentally flips over the net and injures your finger? Do you win?
Players are able to learn the answers from iKnowTennis mobile app.
Tennis officials, coaches, and the estimated 75 million tennis players worldwide must learn the rules of game from a 331-page rule book. It is a never-ending process to memorize and understand the rule book, "Friend at Court: The USTA Handbook of Tennis Rules and Regulations", published by the United States Tennis Association (USTA).
After enrolling to be trained as a USTA tennis official, Barbara Wyatt, Mobile App Developer, received the rule book in the mail. "It was quite boring. Plus I needed a much more thorough understanding of the rules," Wyatt said. "There had to be a better way to learn these detailed rules of tennis."
She conducted hundreds of interviews of players, tennis professionals, coaches, USTA officials, and tennis fans to create the raw material for a mobile app. She organized the material into a fun and effective way to learn the sport's rules. iKnowTennis! is an on-court decision-making quiz to help new officials, like herself, to learn and review their tennis rules.
The mobile app has expanded beyond being a favorite of tennis officials. It is receiving accolades from coaches, team captains, recreational tennis players, and parents of players just taking up the sport and on school teams.
Tennis author, Kim Selzman, of Tennis Fixation said, "I have been working my way through I Know Tennis! app and really enjoy it. I'm kind of a nerd about rules so I think it's a lot of fun."
Steve Varon, Hellam Varon CPAs, states, "I Know Tennis! is a must have app for all tennis players. A great resource for all tennis rules and regulations."
Michael Parretta, a member of Pacific Lutheran University Tennis Team (2008-2012) says "Every USTA captain needs this app. It's packed with all the rules and so much fun to use."
Sports officials face the task to make the right instant decision in games. One bad call or ruling could lose a game for the better team. In tennis, tennis officials must make a judgement call on the rule as well as whether a ball lands in or out of the court. In 2004, New York Times reporter, Chris Broussard, reported Serena Williams, a top-ranked professional tennis player, received an apology after she lost a crucial match because of incorrect line calls in 2004. "Four questionable calls - some would say outright mistakes - went against Williams in the third set."
According to Kevin Mitchell, Tennis Correspondent for the Guardian and Observer, tennis pro John McEnroe has suggested removing all officials and linesman and allow the players to call the game themselves. This would require players to have full understanding of the rules of the game. "But I guarantee you that tennis would be like 30% more interesting," said McEnroe.
iKnowTennis! is now considered an essential tool for the estimated 75 million tennis players worldwide. The app is available to the Droid and Apple markets for $0.99. For more information, http://www.iKnowTennis.com.
The answers are:
If a ball hits a tree branch overhanging on the court, the player who hit the ball (that then hit the tree branch) loses the point. The players accepted the tree branch as "permanent fixture of the court" which includes other court fixtures as the scoring device, spectator stands, and more.
If you discover the ball is too soft, you can replace the ball, but there is no "starting all over." The points were played in good faith and therefore they stand.
Your opponent's racquet accidentally flips over the net and injures your finger. You cannot hold your racquet. You lose. Even though your opponent caused the injury, it was an accident and you lose the match.
Wyatt retired from a career in international technology research and cable television management and discovered the game of tennis. She spends her time working freelance photojournalism and was a reporter for the USTA Pacific Northwest Tennis Times. Barbara Wyatt is a member of Intertel, the high IQ club for people scoring on the top 1% IQ scale.