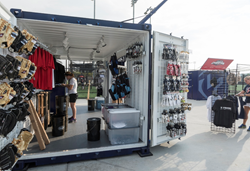 According to Independent Retailer magazine, when asked to name the top reasons to shop a pop-up store, "seasonal products" top the list as well as "finding new and unique products," as well as "convenience," and having a "fun experience."
Louisville, KY (PRWEB) December 02, 2015
Louisville Slugger, a brand of Chicago-based Wilson Sporting Goods Co., doubled sales and halved expenses at its specialty outlets through its relationship with Ikoniq, a modular construction firm. Ikoniq builds pop-up stores from shipping containers, in addition to designing carts and kiosks.
Rob Partin, grassroots marketing manager of the Baseball/Softball Division for Wilson, pointed out that while the company has used tents and other temporary housing for years for experiential marketing, the shipping container approach is simply more efficient. The success factor has doubled in the recent two summers. As an example, Partin cited four installations—one leased and three owned outright—at LakePoint, a new sports park and vacation destination in Georgia, servicing 112 high school teams in a peak week.
Other Louisville Slugger pop-up sites for the brand are at Cal Ripken Baseball in Aberdeen, MD, and Myrtle Beach, SC, and are driven by the school calendar, as well as a summer partnership with Perfect Game USA in Ft. Myers, FL.
The average shipping container from Ikoniq for experiential marketing is 8 feet wide by 20 feet long. The LakePoint shipping containers from Ikoniq are durable and constructed out of high-strength steel, allowing for vinyl flooring, 3-D graphic signage, and GridWall blank panels. The shipping containers are watertight in rain storms, and can be mounted on a foundation to be hurricane proof. Bat arms are custom-made for the Gridwall approach and this allows for about 140 bats in a kiosk. This makes for less logistical issues for staff. A "store" can be closed, and secured, in about 10 minutes.
The LakePoint sports community boardwalk in Emerson, Georgia devotes itself to high school sports circles. It houses more than 23 Ikoniq pop-up stores total for a number of brands, in addition to Louisville Slugger. "To the consumer, it feels like you are entering a sporting goods store. The product is protected and not sunbaked, or dirty from weather exposure," Partin said. Tents have had a tendency to expose product to the weather elements, creating product loss, he explained.
Partin said that the Ikoniq pop-up stores for Louisville Slugger operate well for the designated event season of more than 90 days, without having a reset. "With sporting goods, tent events are difficult. You often drag items to the car or a truck, and you have to drag them out the next day. Ikoniq's pop-up approach really allows for a professional experience. We can be totally shoppable," he added. Shipping container pop-up stores are easy to move across the country for game night action to capture even more customers and fans.
"Pop-up stores with Ikoniq design and construction are trending as an important piece of sports marketing," said CEO Greg Swistak of Ikoniq.
About Ikoniq
Canandaigua, NY-based Ikoniq designs, develops, and manufactures unique carts, kiosks, and shipping containers for pop-up stores, concessions, semi-permanent exhibitions, and other modular construction. Anywhere that retail can occur, Ikoniq's innovative and quality construction plays a role in experiential marketing. NSF and UL certified. For more information, contact CEO Greg Swistak of Ikoniq at 585-393-9888, Ext. 6913. http://www.ikoniq.com
About Louisville Slugger
The Louisville Slugger brand was acquired in 2015 by Wilson Sporting Goods Company in Chicago IL. Wilson purchased the Hillerich & Bradsby Co.'s (H&B) global brand, sales and innovation rights to Louisville Slugger. Wilson Sporting Goods Co. is an American sports equipment manufacturer based in Chicago, Illinois. Since 1989, it has been a foreign subsidiary of the Finnish group, Amer Sports.