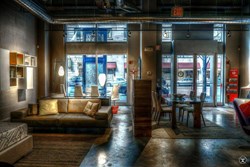 Inviting people having a taste in Furniture Fashion
Boston, Massachusetts (PRWEB) October 30, 2013
IL Décor announces opening of its newest showroom for modern and contemporary furnishings, bringing greater access to high-end home and office furniture for the Boston market. Shopping in Boston is an event in itself, and there's plenty to choose from: the upscale boutiques of Newbury Street, Copley Place, and The Shops at Prudential Center in the Back Bay. IL Décor is a furniture boutique that is located in the heart of it all. Located within Boston's fashionable Back Bay neighborhood in the 10 St. James building on St. James Ave, IL Décor occupies the former Kartell showroom. The new 2,500-square-foot store gives both design-savvy consumers and interior designers a nearby location to shop the Calligaris, Dellarobbia, Presotto, Innovation, Miniforms, Cierre and Gamma furniture lines from premium Italian manufacturers, along with many other eye catching designs from Europe.
What sets IL Décor apart from the rest of the modern showrooms in Boston? One main thing — Affordability. While other showrooms give their clients modern style at a premium, IL Décor offers the same quality and high style at considerable savings. Moreover, IL Décor offers vast variety of items that ship quickly. Consumers no longer have to wait four to five months for an item to arrive — most items can ship within a month. While quick ship items give customers the ability to gratify themselves almost instantly, many items are available in limited finishes. IL Décor can order items to exact customer specifications, in any detail, choice of shapes, colors, leathers, woods and finishes. Special order items can take as little as eight weeks to arrive.
IL Decor is filling a void that has long needed to be filled in Boston: Quality modern furniture from Europe that is not going to have customer take out a second mortgage to purchase, or take too long to receive. IL Décor's selection is vast, and its designers are knowledgeable and have an eye for creating some remarkable interiors with the unique resources available to them. This new, unique, design showroom will soon be a major player, winning in the modern furniture market in Boston. Stop into IL Décor, your eyes will not know what to look at first.
About IL Décor: IL Décor is an online and retail furniture boutique located in the heart of Boston, Massachusetts. Working closely with many renowned furniture manufacturers, IL Decor brings you elegant, modern, stylish, yet practical pieces envisioned by famous European designers and craftsmen. Believing that each part of interior design is equally important, IL Décor offers an array of furnishing products in many categories covering different aspects of home and office environments, which include dining tables and chairs, sectional fabric and leather sofas, coffee tables, bedroom sets, recliners, wall units, bookcases etc. IL Décor carries only the uppermost tier of imported luxury modern furniture that is above all furniture with a unique character inspired by multiple traits: the personality of the creator who designed it, with his sense of talent and originality; and customer's personal touch of freedom and creativity.
For more information on purchasing IL Décor modern furniture, please visit complete online catalog at http://www.modernfurnitureinboston.com.
Media Contact:
Irina Yeliseyeva
Address: 10 St James Ave, Boston, MA 02116
Phone: 617-580-3443
Email: info(at)ildecor(dot)com