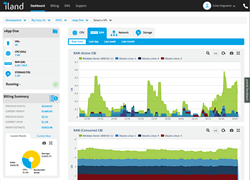 We are committed to addressing the unique needs of UK companies, and our new expansion delivers on that commitment while also supporting requirements of our customers throughout EMEA. - Dante Orsini, SVP of business development at iland
Houston (PRWEB) March 25, 2014
iland, an award-winning enterprise cloud infrastructure provider, today announced the expansion of its U.K. cloud operations and the immediate availability of iland Enterprise Cloud Services (iland ECS) out of its new Manchester datacenter. The company is also enhancing its existing London datacenter which will fully support the newest iland ECS capabilities in April 2014.
With this expansion, companies can more easily deploy and manage private, pubic and hybrid cloud environments while addressing regional data sovereignty and privacy issues. Now with three datacenters in the U.K., iland is also giving customers more flexibility to geographically disperse their clouds to support disaster recovery plans. Teams continue to have access to local iland experts that deliver customized support throughout the cloud lifecycle.
"We are committed to addressing the unique needs of UK companies, and our new expansion delivers on that commitment while also supporting requirements of our customers throughout EMEA," said Dante Orsini, senior vice president of business development at iland. "As we continue to grow, we remain focused on deploying innovative technology and services that empower companies to bypass the complexity that plagues many clouds today."
iland is part of TelecityGroup's Cloud-IX ecosystem, which enables customers to seamlessly and securely extend their private or managed infrastructure within TelecityGroup's facilities into the iland cloud. This capability ensures customers can fully maximize the flexibility benefits of a hybrid cloud.
Delivering the high performance that companies require to run production workloads, test and development, and disaster recovery in the cloud, iland ECS leverages cutting-edge Cisco UCS, Ivy Bridge microarchitecture by Intel, advanced storage, SSD and VMware technology.
Customers leveraging iland ECS can use its portal to ramp up cloud capabilities, predict and control costs, manage resources, maximize performance and enhance compliance. The portal gives business users and IT access to the information that impacts them the most. This includes easy-to-share, configurable graphs that detail performance and cost metrics at global, virtual data center, application and individual virtual machine levels. This unmatched real-time and historical transparency helps eliminate the complexity and costly surprises that prevent companies from actualizing the benefits of cloud. The portal also supports multiple currencies.
The iland ECS portal was recently named a Best of Interop finalist, underscoring iland's innovation and technological advancements. The winners of the Interop awards will be announced April 1, 2014 in Las Vegas, Nevada.
iland has also been ranked as a leader in Forrester Research, Inc.'s report entitled, "The Forrester Wave™: Disaster-Recovery-As-A-Service Providers, Q1 2014." In Forrester's evaluation, iland received the highest scores possible for its core DRaaS offerings, recovery objective capabilities, platform and application support, data resiliency and risk mitigation, security, value proposition and vision, as well as pricing, service levels and contract terms.
For more information on iland's disaster recovery and other enterprise cloud services:

About iland
With datacenters in the U.S. and U.K., iland delivers proven enterprise cloud solutions that help companies do business faster, smarter and more flexibly. Unlike any other provider, iland's technology and consultative approach mean anyone–regardless of expertise, location or business objective–can experience the benefits of a hassle-free cloud. From scaling production workloads, to supporting test and development, to disaster recovery, iland's secure cloud and decades of experience translate into unmatched service. Underscoring the strength of its platform, the company has been recognized as VMware's Service Provider Partner of the Year, Global and Americas. Visit http://www.iland.com.