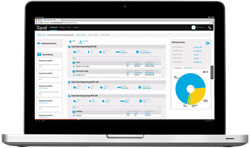 "The iland cloud portal is a great tool for determining our current and future costs in real-time," said Mike Dougherty, senior software engineer at Sypris Solutions.
Houston (PRWEB) February 10, 2014
iland, an award-winning enterprise cloud infrastructure provider with VMware-based solutions, today announced its new portal that cuts through the complexity and unpredictability issues that are keeping companies from getting the full benefits of the cloud.
Unlike any solution on the market, iland's new portal provides an intuitive interface that enables customers to easily ramp up cloud capabilities, control and predict costs, manage resources, maximize performance and enhance security and compliance.
Cloud adoption continues to rise as companies race to reduce expenses, streamline operations and increase agility. But the reality is that teams—both IT and business units—are rarely able to fully actualize the benefits cloud promises because they lack visibility into meaningful cost, performance and usage metrics. Traditional tools either offer extremely limited transparency or overwhelm users with too much complex data that is difficult to navigate and analyze. This is particularly daunting to lines of business, independent software vendors and midsized companies that do not have the time, resources or expertise to sort through the information and take necessary action.
Addressing this challenging reality, iland's new portal offers unmatched, intuitive visibility into resource consumption, billing, performance, the impact of change and other critical areas. It also provides predictive analytics that help companies proactively monitor performance, achieve maximum consistency and anticipate growth requirements. The portal utilizes statistics similar to those in most of the world's on-premises datacenters, so no new training or expertise is required. Because iland takes a consultative approach to service, customers also have access to a team of experts to help them get started and optimize their environment.
"The iland cloud portal is a great tool for determining our current and future costs in real-time," said Mike Dougherty, senior software engineer at Sypris Solutions. "It gives us the visibility we need to maintain control over our cloud resource costs and helps us with planning for future growth."
"Many companies have adopted cloud because they believe it can reduce costs and increase agility only to find out they don't have the expertise or tools required to make sense of their cloud," said Torsten Volk, research director, Enterprise Management Associates. "iland's new portal exemplifies the type of tool teams need to get past that cloud complexity barrier. It provides clear, detailed insight into performance, costs and usage, enabling teams to easily understand their environment, anticipate issues and take action."
iland's new portal comes as part of its Enterprise Cloud Services, and empowers companies to:

Control and predict costs: iland's portal within ECS gives administrators clear visibility into how resources are being used by business units, applications or projects. This allows teams to understand which consumers of resources impact monthly bills the most and exposes where resources are being over or under allocated so that appropriate cost controlling measures can be taken. Eliminating billing surprises, predictive cost and analysis features allow administrators to project monthly expenses based on detailed historical data and the current usage profile.
Maximize performance and eliminate production surprises: Administrators can view detailed real-time and historical performance statistics at workload and resource levels, which they are used to seeing in their on-premises or private cloud deployments. This unmatched visibility through the iland portal enables performance and resource optimization between different workloads within the cloud footprint. By monitoring the performance of resources during development and test cycles, administrators are ensured applications will perform well once they transition into production.
Enhance security and compliance: The portal's Event History provides a summary of all changes to any organization, application and VM, including information on the user that made the modification, the time and the object changed. This feature supports security, compliance and accountability initiatives, ensuring administrators always have visibility into planned and unplanned modifications to an environment. The Event History also reduces resolution times as administrators correlate events with usage performance.
Simplify management of cloud resources: The At-a-Glance feature allows administrators to monitor usage of resources across all datacenters, regardless of location, from a single screen. Interactive graphs enable users to easily view and share data and trends. The portal also facilitates issue resolution, as users can easily create, update and view support tickets and manage Domain Name System (DNS).
"Companies continue to be surprised by cloud cost, performance and compliance issues," said Wayne Pauley, senior analyst, Enterprise Strategy Group, Inc. "By giving users easy, intuitive access to the data they need most, iland's new portal can help teams mitigate risk and get more value from their cloud. iland's portal provides customers with an accurate view of current costs and a forecast that looks ahead, allowing customers to make more informed decisions about the trade-offs in cost versus resources provisioned. This single pane-of-glass approach is just what IT managers need to keep track of their cloud resources and help them justify any changes needed in consumption."
"Traditionally, companies have had to sacrifice transparency for the agility and scalability that public cloud provides," said Dante Orsini, senior vice president of business development at iland. "We designed iland's new portal to eliminate that tradeoff so companies can fully harness the benefits of the cloud. This first release of the portal is merely the beginning, as we continue to work closely with customers to add functionality that further empowers companies to maximize their cloud ROI."
For more information on iland's disaster recovery and other enterprise cloud services:

About iland
With datacenters in the U.S. and U.K., iland delivers proven enterprise cloud solutions that help companies do business faster, smarter and more flexibly. Unlike any other provider, iland's technology and consultative approach mean anyone–regardless of expertise, location or business objective–can experience the benefits of a hassle-free cloud. From scaling production workloads, to supporting testing and development, to disaster recovery, iland's secure cloud and decades of experience translate into unmatched service. Underscoring the strength of its platform, the company has been recognized as VMware's Service Provider Partner of the Year, Global and Americas. Visit http://www.iland.com.