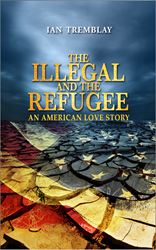 Migrants from Mexico and Cuba Die by the Thousands as they Desperately Try To Reach The U.S.
(PRWEB) April 29, 2015
The Illegal And The Refugee – An American Love Story is a tale of tragedy and triumph that highlights the difficulties and the hardships of Latino immigration to the United States. With roots set deep in Mexico and Cuba, it is a story about letting go of the past, the resilience of the human spirit in the face of adversity and of deep, unconditional love.
Maria Torres is a bright university student from Mexico City and a committed social activist who becomes gravely concerned when Eduardo the love of her life decides to cross into the United States illegally and then vanishes from the face of the earth. She decides to retrace his footsteps and survives a treacherous and traumatic crossing of the Arizona desert, ending up in East Los Angeles, an illegal immigrant and desperate to find him.
In Havana, Cuba, Ernesto Rodriguez dreams of fleeing his hermetic and state controlled country with the love of his life Yaneti to the United States. He succeeds in sending her off first and then she is never heard from again. He decides to follow her trail and barely survives a life-threatening and harrowing sea crossing, washing up confused and half-naked on a Florida beach, legally a refugee, and determined to find her.
As Maria and Ernesto get busy adapting to their new circumstances in the U.S. and the search for their missing loved ones, a natural catastrophe elsewhere in the world sets the stage for their accidental encounter in Miami, putting into place the final pieces, of their incredible journey.
See the book trailer at: http://www.iantremblay.com/media.html
About the Author
Ian Tremblay works in the entertainment business and is an avid world traveller and fishing aficionado. He studied English Literature and has self-published two other books, Tales of Inhumanity and Retribution and Tales of Duplicity and Discontent.
His first novel, The Illegal and the Refugee-An American Love Story is now available in paperback and on all digital platforms.
Find out more about the author on his website http://www.iantremblay.com
Source:
Dean Jamieson Brisson
Publicist
Phone : +1 (514) 778-6001
Email : deanj(dot)brisson(at)gmail(dot)com