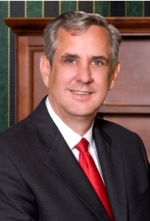 Illinois DUI lawyer Donald Ramsell participated as a presenter at MCDAA's 11th Annual Advanced DUI Defense Seminar held last week in Columbia, MD
Naperville, IL (PRWEB) May 09, 2014
Illinois DUI lawyer Donald Ramsell participated as a presenter at MCDAA's 11th Annual Advanced DUI Defense Seminar held last week in Columbia, MD. The all-day seminar held by the Maryland Criminal Defense Attorney's Association entitled Killer Cross focused on several different topics relating to cross examination within DUI cases.
DuPage DUI lawyer Donald Ramsell presented for a portion of the seminar called Crossing the Blood Expert I. Other seminar topics included, Crossing the Cop II, Crossing the Breath Test Tech and the Application of General Criminal Defense Principles to the Trial of a DUI Case. The MCDAA 's mission is to promote research in the field of criminal defense law. The organization also aims to support the proper administration of justice and to encourage the independence, expertise and integrity of defense lawyers working on criminal cases. MCDAA's membership includes both attorneys and associated legal professionals throughout the state of Maryland.
Naperville DUI lawyer Donald Ramsell has attended over 100 criminal defense and DUI seminars. He has presented to DUI lawyers in Illinois, New York, New Orleans, Wisconsin, Michigan, Texas, Nevada, Massachusetts, Missouri, Arkansas, Virginia, Mexico, the Bahamas and nationwide through webinars at Thomson-West Publishing. Ramsell is also the only Illinois Attorney Board Certified in DUI Defense by the National College of DUI Defense and is a certified Field Sobriety Testing Instructor.
Throughout this career, Donald Ramsell has defended over 10,000 DUI cases as an Illinois criminal defense attorney. He is the Founder and Managing Partner of Ramsell & Associates, LLC. His law firm focuses its practice on DUI's criminal law, drug crimes, felonies, misdemeanors, traffic violations and personal injury. Ramsell & Associates, LLC has been featured on Oprah, 20/20, NBC, CBS, CNN, FOX, COURT-TV, Hannity and Colmes, the New York Times, Washington Post, and on radio shows across the United States.
Ramsell was selected to the Top 100 Trial Lawyers organization in 2013. He was also named a 2014 Illinois Super Lawyer by Chicago Magazine, which marks his 8th Super Lawyer designation since 2005. Additionally, Ramsell is a Past President of the DuPage County Bar Association and DuPage County Criminal Defense Lawyers Association.
The experienced criminal defense lawyers at Ramsell & Associates, LLC have been providing exceptional legal services since 1986. The DuPage DUI lawyers are highly respected and have an extensive track record of positive results. If you are in need of legal assistance for a DUI or criminal defense matter contact Ramsell & Associates, LLC at 1-800-DIAL-DUI or fill out the online contact form.