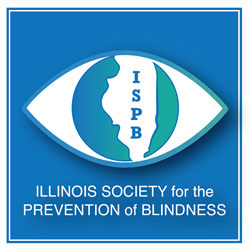 "Unfortunately, low vision equipment, which can be very expensive, is not covered by health insurance, including Medicare and Medicaid," said Elyse Fineman, executive director at ISPB. "Thanks to the generous support of Horizon, we can now expand our program to provide these tools to those in need."
CHICAGO (PRWEB) February 21, 2023
As part of February's Low Vision Awareness Month, nonprofit organization Illinois Society for the Prevention of Blindness (ISPB) is partnering with Horizon Therapeutics, a global biotechnology company focused on rare, autoimmune and severe inflammatory diseases, to provide much-needed low vision equipment to the underserved in Illinois as part of the ISPB Low Vision Equipment Reimbursement Program. The program provides reimbursement for low vision aids, scleral lenses, and eyeglasses, to those who cannot otherwise afford them. Horizon is supporting the program with a donation of $50,000.
Low Vision is defined as vision loss that cannot be corrected by medical or surgical treatments, or conventional eyeglasses, according to the American Academy of Ophthalmology. The Centers for Disease Control and Prevention's Vision and Eye Health Surveillance System (VEHSS) estimates that there are more 243,000 Illinois residents experiencing vision loss.
Since its inception, the ISPB Low Vision Equipment Reimbursement Program has provided thousands of patients with no-cost low vision aids and glasses. These tools help children succeed in the classroom, adults to continue to work, and seniors to remain independent.
Since 1916, ISPB has developed relationships with community partners, many of whom treat underserved communities, to identify low-income patients. These partners find the most effective low vision equipment and ensure that it fits the needs of the patient before applying for the ISPB reimbursement program. Current ISPB partners include Lurie Children's Hospital, The Rosenbloom Center at the Illinois Eye Institute, The Center for Sight and Hearing, and The Chicago Lighthouse.
"Unfortunately, low vision equipment, which can be very expensive, is not covered by health insurance, including Medicare and Medicaid," said Elyse Fineman, executive director at ISPB. "Thanks to the generous support of Horizon, we can now expand our program to provide these tools to those in need."
"Through our work with the Thyroid Eye Disease (TED) community, we've seen the important role that accessibility tools and adaptive technology can play for those living with low vision," said Matt Flesch, vice president, communications and patient advocacy, Horizon Therapeutics. "However, those tools and resources can be incredibly cost prohibitive. These grants will help remove some of those financial barriers and help people who are blind or living with low vision access necessary equipment to live more independent lives."
Horizon also recently supported the launch of the newly redesigned Prevent Blindness resource, "Living Well With Low Vision." The site, designed for patients, care partners and professionals, offers a wide variety of resources including patient guides, a low vision news feed, database of Low Vision Resource Directories, and much more.
For more information on the ISPB Low Vision Equipment Reimbursement Program, please visit https://eyehealthillinois.org/financial-support-for-visual-aids/. (Patients should contact partnering clinics directly for an appointment.) To visit the Living Well With Low Vision resource, go to LowVision.PreventBlindness.org.
About The Illinois Society for the Prevention of Blindness (ISPB)
ISPB was founded in 1916 to reduce preventable causes of blindness. ISPB has a rich history of promoting vision and eye health in the state of Illinois and was instrumental in advocating for passage of several sight-saving bills before the Illinois legislature. Dedicated to the care, protection, and preservation of sight, ISPB programs today continue to stress education and safety; access to care for glasses and low vision equipment; and research grant opportunities. We also provide speakers and screening booths at health fairs and other events. The work of the ISPB is supported by the generosity of individuals, businesses, organizations, corporations, and foundations. Contributions, remembrances, wills, bequests, and grants make our important work possible. For more information, visit us at EyeHealthIllinois.org, and follow us on Facebook, Twitter, Instagram, and LinkedIn.
About Prevent Blindness
Founded in 1908, Prevent Blindness is the nation's leading volunteer eye health and safety organization dedicated to fighting blindness and saving sight. Focused on promoting a continuum of vision care, Prevent Blindness touches the lives of millions of people each year through public and professional education, advocacy, certified vision screening and training, community and patient service programs and research. These services are made possible through the generous support of the American public. Together with a network of affiliates, Prevent Blindness is committed to eliminating preventable blindness in America. For more information, visit us at PreventBlindness.org, and follow us on Facebook, Twitter, Instagram, LinkedIn and YouTube.
About Horizon
Horizon is a global biotechnology company focused on the discovery, development and commercialization of medicines that address critical needs for people impacted by rare, autoimmune and severe inflammatory diseases. Our pipeline is purposeful: We apply scientific expertise and courage to bring clinically meaningful therapies to patients. We believe science and compassion must work together to transform lives. For more information on how we go to incredible lengths to impact lives, visit http://www.horizontherapeutics.com and follow us on Twitter, LinkedIn, Instagram and Facebook.
###