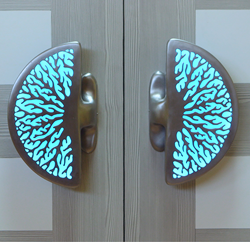 "it is difficult to capture the fact that this is an operating door pull unless you can actually show the handle in use opening a door"
(PRWEB) July 13, 2017
Martin Pierce is continuing to capture some of his latest illuminated door handles in short colorful videos shot by Jeff Jenkins with the help of actress Lauren Pence. The Coral handle is part of a series of lit door pulls that are UL listed and that incorporate low voltage energy efficient LED diodes. The Coral handle as with all of Martin Pierce's work is designed and manufactured in Los Angeles, CA and is cast either in bronze or steel using the lost wax method of casting, a process that allows Pierce to capture very fine detail.
Pierce commissioned the video as "it is difficult to capture the fact that this is an operating door pull unless you can actually show the handle in use opening a door". Pierce is planning to shoot a series of videos for his new works, "some will be artistic but others will be more along the lines of tutorials that shows how the handle can be mounted and how the diode strips can be replaced". Unlike many of the LED fixtures on the market these new illuminated pulls are hard wired and not battery dependent so if a door is wired for an electric mortise then it should be a good choice for this type of luminaire.
Ideally power for the illuminated door pull is delivered through an electric hinge and conveyed to the handle by a hollow channel in the door. While this is easier to achieve in new doors that can be designed with a hidden channel, existing doors can be retrofitted by creating a channel or power can be delivered by using a power transfer unit that essentially feeds the wires via an external armature. Pierce's handles use low voltage small gauge wires and the fixture comes with a wire harness that allows for connection to a remote class 2 power source. The luminaires in this series are all UL listed.