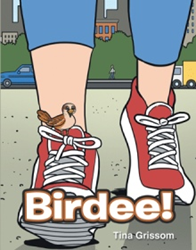 LONG BEACH, Calif. (PRWEB) November 20, 2018
A young bird afraid of flying finds ways to travel without having to soar up high. In Tina Grissom's debut book, young readers are invited to follow the fun adventures of "Birdee!" (published by AuthorHouse). To purchase a copy and know more about the book, visit https://www.amazon.com/Birdee-Tina-Grissom/dp/1546222553.
There once was a grove of pine trees standing tall in the center of a small park in the city. In one of these pine trees was a nest — a home to a little sparrow named Birdee. He lived there with his mother, brother and sister. One day, mother bird decided to teach them how to fly. One by one, the little birds sat on the edge of the nest, flapped their wings and took to the air. Birdee, the smallest, struggled and promptly fell to the ground. As he looked, he realized how high up they were and was afraid to fly. Will he ever soar to the sky?
An excerpt from the book reads:
"Be careful, don't fall!" chirped Birdee to the pigeons. But all they did was stare at him with their beady eyes and stayed right where they were. And Birdee was afraid.
Presented in colorful illustrations, the book takes readers on an adventure as Birdee travels around the city. In the end, the story aims to show children not to be afraid of trying new things. "I want kids to enjoy this book so much that they will want to read it again and again!" Grissom adds.
"Birdee!"
By Tina Grissom
Softcover | 8.5 x 11in | 44 pages | ISBN 9781546222552
E-Book | 44 pages | ISBN 9781546222545
Available at Amazon and Barnes & Noble
About the Author
Tina Grissom lives in Southern California. She enjoys playing with her three rescue dogs and listening to birds singing in the backyard.