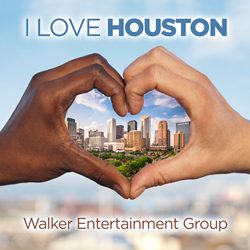 Houston, TX (PRWEB) September 04, 2017
The whole world is watching Houston, and the Walker Brothers want everyone to know just how special a city it is. The musical family has released the song, "I Love Houston" as a tribute to the Bayou City and as a fundraiser to support local residents rebuilding their lives after the devastation of Hurricane Harvey.
Ernest Walker, musical producer and president of Walker Entertainment Group, and his two musician brothers, Charles and Chris Walker, along with writer Robert Garrett, produced the song in 2014, but never released it. They believe now is the perfect time to use the song as a way of supporting those in need.
"We are native Houstonians, and we love this city so much," said Ernest Walker. "We want people to know how wonderful our people are and that Houston has so much to offer the world. We're a global city with some of the best intellect, talent and creativity in the world, and all of that is reflected in this song."
I Love Houston highlights some of the many attractions for which Houston is known such as the Texas Medical Center, the Rodeo, major sports teams, the energy industry and more. The Walker Brothers also performed the song live just before Mayor Sylvester Turner's acceptance speech after being elected to office in 2015.
I Love Houston is available for download for one dollar ($1) on iTunes, Amazon Music, Google Music and CD Baby at http://www.cdbaby.com/cd/ilovehouston. For every download, $.50 will be donated to the Hurricane Harvey Relief Fund established by Houston Mayor Sylvester Turner and managed by the Greater Houston Community Foundation. The song will be available on iTunes and as a ringtone in the coming weeks.
Ernest Walker is a well-known music and event producer, artist and the general manager of KTSU-FM, the radio station at Texas Southern University. His track record of success includeslarge-scale entertainment productions including Freedom Over Texas 4th of July Celebration, the Evolution of Gospel at the John F. Kenney Center, the Houston mayoral inauguration, a tribute to Quincy Jones, NAACP national conventions and more. He has been the producer and director for national and international recording artists Chante Moore, Kirk Whalum, Al Jarreau, Regina Belle, the late Natalie Cole, and countless other artists.