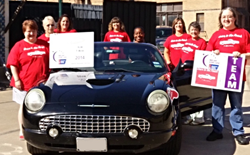 Groesbeck, TX (PRWEB) November 17, 2014
Relay for Life is the largest fund raising activity in the world according to the American Cancer Society. It is a 6 hour event offering everyone an opportunity to participate in the fight against cancer. Team members take turns walking a track throughout the event in honor of those who continuously battle cancer. From entertainment, games and food, to touching ceremonies and stories of inspiration, there is something for everyone at Relay for Life.
Insurance Licensing Services of America's ("ILSA") fundraising activity for 2014 started in January and continued each month with different departments at ILSA sponsoring the monthly fundraiser. They had 6 luncheons, an Ice Cream Social and a Cupcake Contest (judged by ILSA clients from Waco). In September, the ILSA team sponsored a "garage" sale, held in the ILSA courtyard. Donations of clothing, furniture, toys, etc. were received from all ILSA employees. Following the end of the sale, all remaining children's clothes and toys were donated to Angel Reach in Conroe, TX and all adult clothing items were donated to local charities.
The biggest fund raiser of the year was the 2nd Annual Pie in the Face contest. Through the month of September employees purchased votes for ILSA employees that they wanted to have "pied". Voting culminated on Oct 2 and the top 6 votes went to Misty Samuels, Joyce King, Lorraine Smith, Kristy Starling, Karl Smith and Nicole Sanders. The right to throw the pies was auctioned off to the highest bidders. This event alone raised over $1400. The ILSA team, captained by Joan McEntyre and Joyce King, was the first team to turn in money to the American Cancer Society/Limestone County/Relay for Life annual fund raiser and held the lead position in Limestone County up to the day of the event.
On October 18, 2014, the Relay for Life event day was held at Fort Parker State Park. ILSA employees on the team were Joan McEntyre, Joyce King, Tammy Kluna, Polly Galloway, Elaine Nance, Charles Nance, Arleen Taveras, Misty Samuels and Stefanie Cantu. Also joining Team ILSA were Makayla Sikes, Cynthia Bridges and Crystal Doggett. This year the ILSA T-Birds achieved the fundraising Level of Silver Medal Team with a total donation of over $4,000. ILSA is committed to continuing their ongoing fundraising efforts for Relay for Life and The American Cancer Society.
About ILSA:
Insurance Licensing Services of America, Inc., is a complete insurance licensing and compliance provider offering over 50 services including: licensing, license renewals, CE tracking, surplus lines reporting & tax filings, and Secretary of State filings. ILSA was founded in 1997 by Ted and Arleen Taveras who saw a clear need for a centralized licensing and compliance solution for agents and agencies struggling to navigate the complex regulatory environment. Videos highlighting ILSA's many services are available on their corporate website: http://www.ilsainc.com.