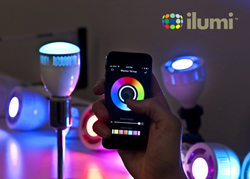 We need different kinds of lighting for different settings, times of day and applications. Now one LED product, ilumi, can do it all! - Dr. Chips Chipalkatti
Dallas, TX (PRWEB) September 18, 2013
ilumi solutions, a company at the convergence of mobility and LED lighting technology, today announced immediate availability on Kickstarter for its ilumiTM light bulbs. ilumi is a series of multicolor, intelligent and tunable Bluetooth-enabled LED light bulbs controlled wirelessly by app for iOS or Android. ilumi offers users complete lighting control with flexibility, simplicity, and industry leading brightness and efficiency to create amazing lighting experiences.
ilumi uniquely offers wireless meshing using Bluetooth Low Energy (BLE), which provides full systematic lighting control with simple set up and ease of use. With BLE, ilumi eliminates reliance on Wi-Fi networks and bridges, and hefty installation costs, making ilumi perfect for home and commercial establishments such as restaurants, bars, clubs and theatrical applications. With the rise of BLE in all major mobile devices, including Android's recent release of BLE support, and the prevalence of BLE in smart gadgets on the market, ilumi is poised to lead the future of intelligent lighting via mobile.
Additionally, the company's proprietary HyperLux™ LED technology allows ilumi to achieve the highest lumens per watt in any multicolor LED light for the brightest and most efficient multicolor light in its class, from bright whites to rich saturated colors, without compromising functionality.
"We need different kinds of lighting for different settings, times of day and applications. Now one LED product, ilumi, can do it all," said Dr. Chips Chipalkatti, former head of Innovation Management at Sylvania and member of ilumi solutions' advisory board. "This is an exciting solution that is easy to use for the novice, yet delivers precise color control to the advanced user. As LEDs last for years and years, ilumi can be tuned and adapted to changing needs while continuing to provide the inherent energy savings of LEDs."
ilumi also has a processor, memory and real-time clock, giving users the ability to adjust, customize, program and schedule one or multiple ilumi. Additional features and capabilities include:

Automation to fit your schedule – ilumi can help you wake up in the morning and tuck you in at night, adjusting color and brightness at set dates and times.
Dynamic lighting atmospheres and effects – ilumi can sync to music, mimic rolling blue waves, mimic romantic candlelight and more, turning spaces into places.
Lighting for information at a glance – ilumi can alert you to important information, from the day's weather to incoming calls and emails, to stock prices and news items.
Proximity and geo-location recognition – ilumi senses when you arrive and when you leave. They can follow you around the house, automatically turning on and off.
Earlier in the year, ilumi solutions successfully raised funds on Indiegogo, and the company is now opening up early availability of its ilumi light bulbs to the Kickstarter community.
"We've had so much interest in ilumi and excitement around how people are going to use them at home and at work, even for artistic purposes like theater lighting and photo shoots, that we decided to go on Kickstarter to open up all that ilumi can do to another passionate and engaged community of supporters," said Corey Egan, co-founder and CEO, ilumi solutions.
About ilumi solutions
ilumi solutions is a company at the convergence of mobility and LED lighting technology, providing intelligent, simple and innovative wirelessly controlled light bulbs. Based out Dallas, TX, ilumi solutions' mission is to improve how people interact and control lighting by creating novel and engaging lighting experiences.
Please visit us at http://www.ilumi.co, find us on Kickstarter at http://kck.st/152xgw8, follow us on Twitter at @ilumisolutions and Facebook at facebook.com/ilumisolutions.
Contact Information:
Corey Egan
press(at)ilumi(dot)
(972) 489-1209