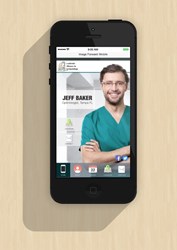 The goal was to make the best possible mobile website experience for our clients web visitors, I can state with confidence we have met that goal... - Michael Huth, Image Forward CEO.
Tampa, FL (PRWEB) August 31, 2013
CEO Michael Huth announces the launch of a custom Image Forward mobile website platform. Developed using the latest PHP and HTML 5 coding protocols, the mobile site is a custom template system that will populate the mobile website with proprietary data from the Image Forward client database. This method ensures each mobile site will be uniquely populated with the most important client data. Each mobile site is designed to be interactive and will feature the popular social media sites such as Facebook, Twitter, YouTube, Wordpress and Google Plus.
As the tendency increases for web visitors to use their mobile phones as the primary means for searching for and locating business and the services offered, it was important to make sure the Image Forward designers and developers built a mobile site that would work for any tablet or mobile phone on any modern mobile web browser. A big frustration expressed by people investing in websites and internet marketing services is how many mobile sites only worked on one of the major platforms, such as Android as an example, and might appear fine on a large device but broke, or did not display properly when viewed on a device of a different size. It is a well known fact that iPads and iPhones do not display sites with Flash technology.
It was important from a development perspective to ensure that our mobile sites have technology to detect the mobile visitors device and display the important data and graphics accordingly. Additional features of the mobile site platform include the fact that the mobile sites will include hosting and will appear on a custom Image Forward domain name that will fit into a larger search engine optimization strategy.
About Image Forward
Image Forward, an internet presence management company helps clients to drive revenue by leveraging and building audience engagement through the use of proprietary tools including an automated social content distribution system (if-Social), a review monitoring tool, custom WordPress blogging platform, custom client search directories, Facebook and Google PPC advertising, as well as YouTube video advertising. Based out of Tampa Florida and specializing in franchise marketing Image Forward provides turnkey Internet Presence Management Solutions to improve brand visibility by establishing a local search presence & publishing high value content to social portals.
###