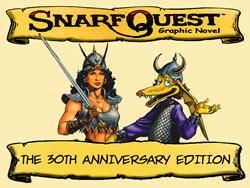 It's a huge honor that Larry asked me to help with this full release of SnarfQuest. I'm excited we're making this story available so that parents can share SnarfQuest with their children.
Las Vegas (PRWEB) March 31, 2014
After an eventful first weekend on Kickstarter, Imagined Interprises Inc.'s release of the first-ever full version of Larry Elmore's SnarfQuest continues. Fantasy fans are invited to back the project, as it offers an array of collectibles inspired by the original story that captivated so many. The full black and white version of the original graphic novel is now available for pre-order, but if the campaign hits certain monetary milestones, they will release a series of extra color versions.
SnarfQuest, a choice graphic story for fantasy fans throughout the 1980s and 1990s, appeared as a monthly installment in Dragon Magazine. Fans both young and old waited anxiously for the release of the next installment of the story. Throughout the years, many limited installments and versions of the story have been re-created; however, Imagined Interprises, Inc. is bringing the first-ever complete version to be fully remastered and professionally edited.
"I grew up waiting on SnarfQuest every single month," said Imagined Interprises author Maxwell Alexander Drake. "It's a huge honor that Larry asked me to help with this full release of SnarfQuest. He was the inspiration that sparked my dreams to become a fantasy writer. I'm excited we're making this story available so that parents can share SnarfQuest with their children."
The main SnarfQuest story has been remastered fully in black and white. Imagined Interprises will also release the two color stories that were done after the main story's completion if the project's funding goals are met. If the project raises over $25,000 they have promised to upgrade the five-page "Birds & Bats" story to full color. If they reach the $30,000 goal they will upgrade the 12-page "Werewolf Adventure" to full color. If the Kickstarter project raises $250,000 or more, the team at Imagined Interprises, Inc. will upgrade the entire 30th anniversary edition of SnarfQuest to full color.
"The team at Imagined Interprises has been working really hard for the last nine months on this project," said Larry Elmore. "I think they're a great group, and they've made a lot of great additions to the project. I'm especially excited about some of the collectibles they've added for the backers. I'm hoping for a great response so that we can get the full story printed in full color."
For the duration of the campaign, SnarfQuest fans can pre-order various reward levels featuring combinations of the story and several different collectible items. The original SnarfQuest miniatures that Ral Partha released more than twenty years ago will be available to Kickstarter backers. Additionally, collectors coins, a deck of 52 playing cards, the SnarfQuest D20 rule book, a 20X30 photo print, and an official Backer's T-Shirt are offered in the assorted rewards.
There's more than just collectibles though. The ultimate experience reward for backers who pledge $1,000 or more gets backers an invitation to join Larry Elmore and Maxwell Alexander Drake for dinner in Indianapolis, Indiana during Gen Con.
Backers can now visit http://bit.ly/ImaginedInterprisesKS to pre-order any of the aforementioned products. Pricing for the SnarfQuest graphic novel starts at $30 and increases as more collectibles are added. Be sure to like Imagined Interprises, Inc. on Facebook and follow them on Twitter @ImaginedBooks to get the latest campaign updates.
ABOUT IMAGINED INTERPRISES, INC.
Imagined Interprises, Inc. is a small, but growing fantasy publishing house. Our goal is to publish high quality fantasy literature and artwork. If you are a fan of saga fantasy – rich, detailed worlds with distinctive societies that are steeped in history and culture – then we have a treat for you. Visit our website at http://www.imaginedinterprises.com for more information about our authors, literature and artwork.