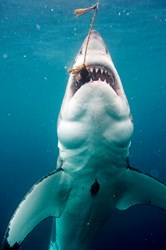 It's not the menacing, evil predator it's made out to be.– Co-director Steve McNicholas.
Norwalk, CT (PRWEB) November 11, 2013
We're not going to need a bigger screen.
The six-story screen of The Maritime Aquarium at Norwalk is plenty big enough for "Great White Shark," a new IMAX® movie that offers larger-than-life encounters with these feared predators. Ironically, despite all of the big sharp teeth, the film explains how the sharks actually need our help.
"Great White Shark" is showing at 11 a.m. and 2 & 4 p.m. daily through Nov. 26. Times will change after Thanksgiving. Confirm show times before visiting at (203) 852-0700 or http://www.maritimeaquarium.org.
"We've all seen the great-white documentaries on TV," said Chris Loynd, the Aquarium's marketing director. "Experiencing 'Great White Shark' on the giant IMAX screen is going to make everything you've seen in the past seem like you watched it in a little View-Master®."
IMAX is the world's largest film format. Outstanding image clarity and the enormous screen size, combined with The Maritime Aquarium's 12,000-watt surround-sound audio system, result in an immersive thrill that's so unique it's been trademarked: "IMAX is Believing®."
Great white sharks, of course, were thrust into the limelight by Peter Benchley's 1975 novel "Jaws" and Steven Spielberg's subsequent blockbuster film (with the famous line, "We're going to need a bigger boat.") As anyone who watches TV's "Shark Week" knows, interest in great whites remains high. Locally, with increased attention to the great white sharks off Cape Cod, the timing for the film couldn't be better, Loynd said.
"No other modern animal may command both our fears and fascination as much as the great white shark," Loynd said. "Yet, despite their fame, we actually know very little about them."
"Great White Shark" unravels the mystery of the creature we love to fear in telling the true story of its role atop the oceanic food chain.
Co-director Steve McNicholas said the film's mission is to change people's attitudes toward the great white.
"It's not the menacing, evil predator it's made out to be," McNicholas said. "It's simply performing its crucial role at the top of the ocean's food chain. Great whites are not monsters any more than the polar bears or lions that we revere."
The 40-minute film takes viewers around the world to great-white hotspots and examines what we know about these incredible animals through the eyes of several people whose lives and work have become inextricably linked to the great white. Among these is shark expert Michael Rutzen, who openly scuba dives among them.
Its subject matter is gently handled, allowing the film to be suitable for all ages.
"Great White Shark" is narrated by acclaimed stage and film actor Bill Nighy.
Tickets for an IMAX movie at The Maritime Aquarium are $9.50 for adults, $8.50 for youths (13-17) & seniors (65+), and $7 for children (3-12).
Discounted tickets for both an IMAX movie and Aquarium admission are $24.95 for adults, $22.95 for youths & seniors, and $17.95 for children.
Get tickets or more details, and watch a trailer of the film, at http://www.maritimeaquarium.org.