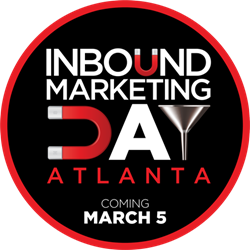 Atlanta, GA (PRWEB) February 10, 2015
On March 5th, marketing and sales professionals will come together at Atlanta's first Inbound Marketing Day, #IMDAtlanta, to learn from experts and share their own experiences with peers. The event is part of Inbound Marketing Week 2015 – a globally coordinated series of events centered around inbound marketing best practices and techniques to drive leads for businesses. Marsden & Associates is one of 6 Atlanta–based marketing firms hosting the event, and will be conducting their workshop during the afternoon sessions.
"This event is a fantastic opportunity for area marketing and sales professionals to come together to learn, get motivated, and share with peers the latest techniques and trends in Inbound Marketing," said Anne Marsden, Principal and founder of Marsden & Associates, "As a leading inbound marketing agency to B2B clients around the country, we're excited to both host and present at Inbound Marketing Day Atlanta."
Inbound Marketing Atlanta is March 5th, at the ROAM Dunwoody facility. Attendees to the daylong event will hear from an impressive line-up of globally recognized authors, bloggers, and speakers including:

Ardath Albee, Marketing Interactions, strategist, consultant, blogger and speaker on the subject of building buyer personas, and author of Digital Relevance and eMarketing Strategies for the Complex Sale
Mark Schaefer, Schafer Marketing Solutions, a globally-recognized blogger, speaker, educator, business consultant, and author of best-selling books including; The Tao of Twitter, Return On Influence, as well as his latest book, Social Media Explained: Untangling the World's Most Misunderstood Business Trend
Viveka von Rosen, Linked into Business, international speaker and consultant on the benefits of marketing through social media, particularly through LinkedIn, and author of LinkedIn Marketing: An Hour A Day
Ted Wright, founder of Fizz, the Word of Mouth Marketing (WOMM) agency in Atlanta, speaker, blogger and author of the book, Fizz: Harness the Power of Word of Mouth Marketing to Drive Brand Growth
Attendees will also learn from experts, selecting from a variety of educational workshops, including Marsden & Associates' "Building High Impact Digital Marketing Campaigns: Get the Leads You Want".
Sales and marketing professionals are invited to register for this event online. Early-bird discount registration is available now.
About Marsden & Associates
Marsden & Associates is passionate about Marketing that Sells™. We deliver measurable results for B2B clients combining Marketing Strategy, Branding, Web, Content and Lead Generation. Leveraging today's digital realities, we launch new brands, invigorate under performing ones, and increase the sales pipeline through multi-channel programs. We are Inbound Marketing specialists integrating Web, SEM, Content Marketing, Social Media, and analytics to attract, engage and convert prospects into clients. Marsden & Associates is sought by companies (Fortune 1000's to start-ups) for our unique market insight, creative intelligence, and a roll-up-our-sleeves drive for results. For more information about Marsden & Associates visit our website