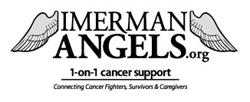 No one should face cancer alone.
Chicago, IL (PRWEB) May 26, 2014
The Kidney Cancer Association has set a goal of identifying mentors in 100 countries by the year 2020. Working collaboratively with Chicago-based Imerman Angels, the charity hopes to make it possible for newly diagnosed kidney cancer patients to connect 1-to-1 with someone who has already had this same experience.
"Sometimes the best therapy for cancer is just talking to someone who's been there. Imerman Angels 1-on-1 Cancer Support was created on the belief that no one should face cancer alone," says Jackie Herigodt, Cancer Support Specialist and Outreach Coordinator at Imerman Angels.
"While we recognize that each cancer and life situation is unique, we connect cancer fighters, survivors, and caregivers with "Mentor Angels" – a cancer survivor or caregiver who is as similar as possible in age, gender, and most importantly, cancer experience. Mentor Angels give cancer fighters and caregivers the chance to ask personal questions and receive support from a peer who has been down the same road before," Herigodt adds.
There is always a need for experienced patients who are willing to serve as mentors. Get information about how to connect with Imerman Angels here.