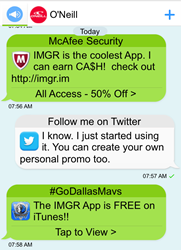 It's more than an Instant Message, it's an Image Message.
Dallas, TX (PRWEB) June 18, 2014
New mobile instant messaging app (IMGR) puts users in the drivers seat, and makes earning cash as simple as sending a message. Users can share products and brands they like with their friends and earn cash. The small promotions are soft and charming, and automatically rotate within their outgoing messages. Users have complete control and can share who they want, when they want, and only if they want.
This groundbreaking method of messaging additionally allows users to create their own customized personal promotions that can include a small image, header and footer text which is a live clickable link (url). These personal promotions are automatically embedded and rotated within the chat bubble area of their outgoing messages, placing their friends and contacts just a tap away from their blog, social media page, or website of their choice. "It's more than an Instant Message, it's an Image Message," said the Companies Founder and CEO Blake Lind. Complete details can be found at http://imgr.im/free-instant-messaging/.
IMGR (pronounced "imager") is an abbreviation for imageMessenger, and is available free on iTunes - soon to be released for Android. It is the product of North Texas, high-tech startup imageMessenger, Inc. Additional information can be found on the Companies website at imgr.im.