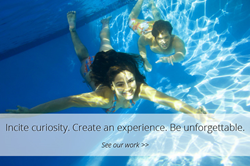 Immersive video content has been shown to be a highly effective marketing tool.
Seattle, WA (PRWEB) June 30, 2014
"Have you ever watched a gamer play his or her favorite video game?" asks Daniel A. Cardenas, founder and creative director of Sierra Media.
"The intense graphics, the fast-paced movement, the gunshots, grenades, and explosions, keep them glued to the screen," he continues. "They're completely immersed in the game, they've entered a new and have becomes a part of the game itself. This is exactly what you want your viewer to feel like when they watch your video productions."
Sierra Media's recently released article, by Daniel A. Cardenas, explains the impact of immersive content upon a viewer's attention span and emotional response.
To view Sierra Media's creative and effective video productions, visit: http://sierra-media.com/work/
According to the article, the technical definition of "Immersive Content" is as follows, "Immersive content is content that absorbs the user, drawing them into a personal, relatable experience and transforming them from a mere onlooker into an involved participant."
Sierra Media emphasizes that immersive content is meant to incite an emotional response from the viewer and cause them to feel connected, committed, and involved in a company's brand and the message of their story.
The article also explains that, "The subject of immersive content has become a huge topic in the marketing world these days. Businesses are constantly asking how to create an experience that will make people feel involved in the company. You've probably been asking the same question."
At the end of the day, immersive content has proven to be a highly effective tool that corporations and large companies can use to enhance their marketing strategies and brand story communication.
About Sierra Media
Daniel A. Cardenas founded Sierra Media, Inc. in 1987 and has had years of experience creating innovative, engaging and effective videos for a variety of industries, from billion dollar enterprise clients to start ups. The team at Sierra Media are experts in developing video productions that encapsulate a company's image, personality, and brand story. Their most prominent goal is to capture their client's authentic voice and infuse it into a quality video production that tells the world who they really are.
Sierra Media
2815 Baker Ave. Suite #201
Everett, WA
lexi(at)sierra-media(dot)com
425.259.4429
http://www.sierra-media.com