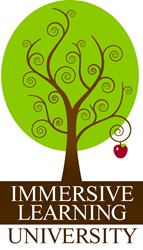 'Dr. Peterson's experience in technology-enabled learning will add a unique perspective to the dialogue about how we can use tools from surprising sources to inform and enrich the learning experience for students.' -- Dennis Rees, NexLearn President
Wichita, KS (PRWEB) December 05, 2013
Dr. Andy Peterson will present a keynote address at NexLearn's Immersive Learning 3rd annual Conference & Symposium, January 27 - 30, 2014. Andy Peterson, PhD, is the President of Reformed Theological Seminary, Global Education. Over the past 15 years, he has led a team to establish and develop a "virtual campus" for the education of hundreds of graduate students located around the world. To date, RTS has over 30 courses, including online instruction for Greek and Hebrew. By using online promotion, sales, and delivery, RTS has gained positive net revenue year to year.
Dennis Rees, NexLearn president said, "As someone who has a great deal of experience with education that reaches an international audience, Dr. Peterson brings a perspective that attendees will be able to take back to their own programs. Dr. Peterson's experience in technology-enabled learning will add a unique perspective to the dialogue about how we can use tools from surprising sources to inform and enrich the learning experience for students."
Dr. Peterson will present, "Big Data, Business Analytics, and Immersive Learning," where he will speak about the new emphasis on "big data" in education and training and its focus on use cases in marketing and enrollment. Statistics and case studies from data captured are used to boost the flow of new students and graduates at schools of all kinds. Business analytics help a school to test promotional plays and campaigns. These same tools help perfect the development, delivery and value of distance learning programs. As online courses are designed with real-time feedback on student performance, they can provide important data for both individual student advisement and next round of course development.
"Educators and trainers no longer ask if they should use online learning, but what are the 'best practices' for online learning. Immersive technologies and big data are important parts of this new paradigm," said Dr. Peterson.
Dr. Peterson will also participate in a panel discussion during the conference. To register for the 3rd Annual ILU Conference and Symposium, visit the registration page at http://www.ImmersiveLearningU.com. Special rates and group discounts are available.
About the Immersive Learning University
3rd Annual Immersive Learning Conference & Symposium
http://www.ImmersiveLearningU.com/
January 27 - 30, 2014
Doubletree by Hilton Hotel and Suites
Charleston, SC
NexLearn's Immersive Learning Conference offers professional development opportunities for everyone involved in immersive learning theory and production. The ILU Conference includes workshops exploring innovative applications for immersive learning and simulations from some of the most experienced practitioners in the field, including features and functions discussions for NexLearn's simulation authoring and implementation technologies. The Conference will also feature case studies, best practices, peer discussions, technology Q & A sessions, future solutions discussions with NexLearn product managers, and networking opportunities.
**Conference attendees will receive a complimentary copy of SimWriter Simplicity**
About NexLearn
NexLearn is a custom education courseware developer and toolset developer with extensive expertise in creating immersive learning simulations. The company's experienced, award-winning team has introduced some of the most innovative courses, tools and technology to the e-Learning industry, including the award-winning SimWriter immersive learning simulation authoring tool and CareerMap learning management system. For more information about NexLearn and SimWriter, visit the NexLearn Web site: http://www.NexLearn.com.