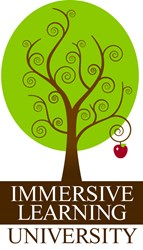 Both Ken and Chad offer participants a method for blending the simulation experience of e-Learning with instructor-led training that our past attendees have found insightful and useful. -- Dennis Rees, NexLearn President
Wichita, KS (PRWEB) November 06, 2013
The 3rd Annual Immersive Learning Conference & Symposium, January 27 - 30, 2014 in Charleston, SC, will feature the workshop "Adding Traction to Your Training." Co-presented by immersive learning experts Ken Spero and Chad Checketts, the workshop will focus on the impact of simulation-based training on increasing retention and experience of trainees.
With more than two decades experience in simulation design, Ken Spero, a Senior Strategist with The Regis Company, helps organizations improve their approaches to critical thinking and decision-making. Encouraging mindful behavior enables him to produce measurable improvements in productivity inside many of his clients' strategic initiatives.
Chad Checketts, CEO at Humentum, focuses on driving and facilitating change in organizations. He consults with Fortune 500 companies in a variety of capacities, assisting them in implementing simulation-based experiences that enrich employee performance.
"Both Ken and Chad offer participants a method for blending the simulation experience of e-Learning with instructor-led training that our past attendees have found insightful and useful," said Dennis Rees, NexLearn president.
The "Adding Traction to Your Training" workshop will discuss how adults learn best by experience, particularly through the consequences of choices. Spero and Checketts will demonstrate how, unlike other forms of e-Learning where information is provided electronically without much divergence from the paper book format, branching simulations allow students to make real-time choices and experience realistic, memorable consequences. They will discuss how blending simulations with leader-led instruction compounds this positive impact by replacing a percentage of "instructor-push" time with "participant-pull" time, engaging others in the learning platform and transforming instructors to facilitators and content experts.
Workshop participants will experience the power of integrating simulation with instructor-led training. They will then learn a simple yet powerful model for blending simulation with information and learning technology. Throughout the course of the workshop, attendees will also practice a process for turning stories with significant consequences into compelling simulations.
To register for the 3rd Annual ILU Conference and Symposium, visit the registration page at http://www.ImmersiveLearningU.com. Special rates and group discounts are available.
About the Immersive Learning University
Immersive Learning Conference and Symposium
http://www.ImmersiveLearningU.com/
January 27 - 30, 2014
Doubletree by Hilton Hotel and Suites
Charleston, SC
NexLearn's Immersive Learning Conference will offer professional development opportunities for everyone involved in immersive learning theory and production. The ILU Conference includes workshops exploring innovative applications for immersive learning and simulations from some of the most experienced practitioners in the field, including features and functions discussions for those interested in NexLearn's simulation authoring and implementation technologies. The Conference will also feature case studies, best practices, peer discussions, technology Q & A sessions, future solutions discussions with NexLearn product managers, and networking opportunities.
**Conference attendees will receive a complimentary copy of SimWriter Simplicity**
About NexLearn
NexLearn is a custom education courseware developer and toolset developer with extensive expertise in creating immersive learning simulations. The company's experienced, award-winning team has introduced some of the most innovative courses, tools and technology to the e-Learning industry, including the award-winning SimWriter immersive learning simulation authoring tool and CareerMap learning management system. For more information about NexLearn and SimWriter, visit the NexLearn Web site: http://www.NexLearn.com