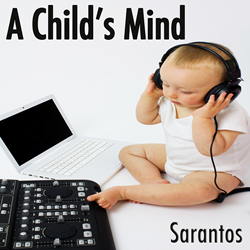 My parents were both immigrants who worked hard, bothered no one and only cared about helping me live a better life. Is there a cause more just or noble? America is still the land of opportunity. I have such profound respect for immigrants!
(PRWEB) March 10, 2015
Sarantos releases a brand new music video for "A Child's Mind", remembering the innocent childhood of an immigrant boy.
Immigrants routinely flocked from Europe to America in the 1950s-70s in search of a better life. America was the land of opportunity and they pursued their dreams! Their story was a common one. Immigrants would seek shelter here and work hard, focus on their family and ultimately try to give their children a better life. Routinely, there was obvious discrimination and bias. While learning a new language was difficult, most managed to adapt to the United States culture and fit in, eventually learning the customs and language of their newly adopted home.
Even today, there are still many immigrants from all over the world such as Mexico, Europe and Asia who long to make the United States their new home. Sarantos new music video portrays the tale of an immigrant mom and son who travelled to the US and the son ultimately became successful and a doctor. Reminiscing about his homeland & mother and remembering the innocence of childhood years along with old friends makes for quite a compelling music video. The song fits perfectly and the story touches on many emotions to reveal yet again that Sarantos is not interested in making music videos without substance.
"This music video is about immigrants and the challenges they encounter every day," says Sarantos. "Can you imagine leaving the comforts of your homeland and moving by yourself or with a spouse or child to go to a foreign land, not knowing the language and not having any money in your pockets? I can't even imagine something that drastic! My parents were both immigrants and I recall the bias against them. They worked hard, bothered no one and only cared about helping me live a better life. Is there a cause more just or noble? America is still the land of opportunity. I have such a profound level of respect and admiration for any and all immigrants who legally try to make America their adopted home!"
33% of any music-related sales profits from this song are going straight to Feed My Starving Children.
Feed My Starving Children is a non-profit organization committed to feeding God's children hungry in body and spirit. The approach is simple: children and adults hand-pack meals specifically formulated for malnourished children, and they ship these meals to nearly 70 countries around the world. Sarantos even participated in one of these packing sessions on a cold Chicago night last month!
Most people remember their childhood fondly. It is a simple time in one's life when there are no limits. Imagine and remember a time when the days were care-free. The nights were full of stars and mystery. One's imagination ran wild at the slightest provocation. Childhood is a time usually spent growing up while learning within the comfort of one's family. However, not everyone has that chance. Some children grow up in abusive environments. Some children grow up without enough food and are often hungry or malnourished. That is an injustice.
Sarantos' music has received rave reviews, and he relishes this chance to pursue his life long dream. Sarantos' unique sound has been best described by industry insiders as "an emotionally powerful vocal style masterfully united with music that is a fusion of classic 80s rock blended with modern soft rock and pop music."
Sarantos was nominated in 2014 for 2 awards for the 2014 International Music & Entertainments Awards, for the categories of "Rock Song of the Year" and "Pop Album of the Year."
With recorded hits and new tunes waiting to be released every single month until the day he dies, Sarantos' music screams success and stimulates an overdue conversation in the changing music industry. Sarantos' loyal music fans continue to show their support by proudly showing off Sarantos merchandise and staying tuned into Sarantos' daily down-to-earth and very real social media revelations. His songs are being broadcast every day on various radios stations around the world. Sarantos continues to do interviews around the world every single week and fans can listen in to some of them on his YouTube page. Let's not forget his funny, sarcastic, witty and genuine music videos that leave his fans not knowing what to expect next.
There will be plenty of continued buzz throughout the year as Sarantos strives to release something for his fans every single week. Every year until the day he dies, Sarantos will release a new song on the 1st Tuesday of every month, a new music video on the 2nd Tuesday of every month, a chapter from his fiction/fantasy book on the 3rd Tuesday of every month, and a new Whiteboard video on the 4th Tuesday of every month. A new CD will then be released every November.
Sarantos has been writing lyrics since 4th grade and is passionate about the words he puts to the music. Music was always in his blood. Music was always a passion and much more than a hobby. Sarantos has written over 2,000 songs. Having undergone several personal challenges with Sarantos' father passing away four years ago after a long hard-fought battle with lung cancer, dealing with personal health issues like asthma and allergies which affected his singing style, going thru life's ups and downs, the timing was finally right. And so it began. Sarantos' main motivation remains, however, to raise money for charity.
33% of any music related sales are going straight to charity.
Sarantos has always been inclined to help people in need and is proud to launch his music as a way to donate a portion of proceeds to charity, hopefully inspiring other artists to do the same. Just a few of the charities chosen so far include the American Cancer Society, American Lung Association, Make-a-Wish Foundation, American Heart Association, St Jude's, Hellenic Academy, American Red Cross, Salvaton Army, Children's Hospital of Chicago...
The website, Melogia (which in Greek means "with words") was established by Sarantos, an aspiring singer and song writer.
*Because Sarantos wants his music shared throughout the world, fans can always find all of his songs, lyric sheets, videos and books on his website for free at https://www.melogia.com/music.html. He openly gives everyone the right to share his song mp3s for free with anyone they want via email or any of the social media platforms.
Sarantos Mission or Goal:
"My goal when you listen to one of my songs is very simple. I want you to feel the need to:
-Sing
-Dance or move to the groove
-Play the song over and over again"
Website
http://www.melogia.com
Sarantos' Facebook artist page:
https://www.facebook.com/Sarantosmelogia
Sarantos' Twitter:
http://www.twitter.com/sarantosmelogia
Sarantos' Youtube:
http://www.youtube.com/user/SarantosMelogia
Sarantos' iTunes:
http://bit.ly/SarantosAppleStore