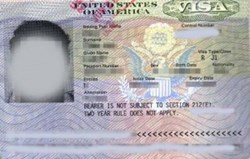 The 2015 H1B filing season will be the most competitive year to date
Fairfax, Virginia (PRWEB) December 23, 2013
The yearly competition to acquire an H1B Visa has become more intense as the demand for H1B visas increases. The H1B system operates on a fixed number which now only permits 65,000 new H1B visas every year, a cap which has not increased for several years. Fairfax immigration attorney Beeraj Patel has worked extensively with H1B candidates in the Washington D.C. area for more than a decade. He predicts that the 2015 H1B visa season will be the most competitive year for H1B hopefuls to date.
Over the past several years the H1B quota has been reached sooner and sooner. In the 2014 H1B visa season, the quota was reached at a record breaking speed of five days after the first day petition was accepted. According to Mr. Patel, "It is not surprising that the quota was reached to rapidly in 2013. The abnormally low number of available visas (65,000) is due to out of date legislation which needs to be addressed."
As an immigration lawyer, Mr. Patel works extensively with individuals in the Information Technology industry which is one of the fastest growing in the United States. There are technology hubs emerging all over the United States in areas such as the DC Metro area, Silicon East, San Francisco, and Boston where IT staffing and skill requirements are not being met. Mr. Patel states, "Many US tech firms cannot find employees that meet their technical skill requirements. The industry simply requires a greater quantity of highly skilled individuals and H1B visas give an additional recruiting avenue to meet that demand."
There are new concerns facing potential H1B applicants which Mr. Patel touched upon stating, "Due to the increasing number of applicants, there is no 'slow' period to prepare H1B applications. It has been a more competitive task every year where well-informed applicants know that it is becoming highly critical for their application to reach USCIS the first day applications are accepted. With only so many spots available, attorneys have to be prepared for quick action to give visa hopefuls a fighting chance."
Mr. Patel reminds potential H1B applicants, "Comprehensive Immigration Reform is still pending, so 2013 H1B Visa rules are still in effect. In other words, there will be no increase in available visas for 2015. All those heading into the 2015 H1B filing system with hopes of acquiring an H1B visa need to be ready to file on the first day that USCIS accepts new applications on April 1, 2014."
###
Patel Law Firm LLC is an immigration law firm located at 3900 University Drive, Suite #100, Fairfax, VA, 22030 and is owned by immigration rights advocate, Beeraj Patel, Esq. The firm's focus is providing quality service in the field of immigration law through affordable and professional assistance.