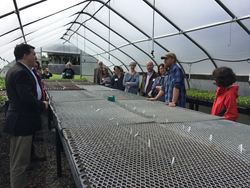 We are beyond proud to be associated with Dell on work that creates hard economic value and quantifiable social impact.
New Bedford, MA (PRWEB) July 12, 2017
Dell Inc. is one of the largest and most influential businesses in the world, and a lead sponsor of ImpactLABS. Dell announced their 2017 Corporate Social Responsibility Annual Report summarizing initiatives that put their technology and expertise to work for the betterment of people and the planet.
The 2017 Legacy of Good Update features the work of ImpactLABS as an example of using technology to advance human progress through 'Net Positive Impact'. The report cites the City of New Bedford for exploring IoT to make a big impact with a small footprint, and states that "IoT solutions provide small cities and businesses with a cost-effective way to stay globally competitive."
Featured in the Legacy of Good Update are three pilot projects run by ImpactLABS:
The Port of New Bedford uses Dell Edge Gateways to capture video imaging of ships entering specific sensitive areas of New Bedford Harbor. This helps to provide security for fish houses and ensure that boats comply with catch quotas and port regulations. The Harbor Development Commission controls the system, offering the world a lesson in technology-enabled regulation.
At Quansett Nurseries in South Dartmouth, water well sensors provide real-time data on water supply, allowing growers to manage water use effectively and minimize waste. Another system monitors propane tank levels. Among the potentially most powerful solutions were the DellEMC-enabled hoophouse and greenhouse environmental monitoring solutions.
Next to Quansett Nurseries, Salt Creek Vineyard uses micro-climate weather stations to monitor climate factors affecting their grapes and determine the best time to harvest. Salt Creek is also experimenting with monitoring its winery, and proved significant value from real-time, precise measurement of water storage tanks.
"We are beyond proud to be associated with Dell on work that creates hard economic value and quantifiable social impact. Dell and their partners, including Analog Devices, GE Digital, Initial State, PTC, V5 Systems and others, worked with our teams around the clock and in the field to make our work possible." stated ImpactLABS Managing Director Chris Rezendes.
ImpactLABS continues to expand its LABS-funded pilot footprints, is expanding into joint LABS-market funded programs, client and partner funded projects and incubated new business models enabled by IoT. ImpactLABS' work is centered in the Greater New Bedford area and extends beyond the United States, focusing on the creation of more resilient communities, industry and infrastructure, and food systems.
Rodrigo Arias, Content Lead, Digital Communications Industry, and Global Leadership Fellow at World Economic Forum commented: "World Economic Forum is undertaking a significant effort to evidence how IoT can create value beyond traditional ROI. Our focus is quantifying how various approaches to IoT can yield demonstrable, repeatable impact when measured against UN Sustainable Development Goals. In Dell's Legacy of Good Update, we have several examples of this opportunity, as highlighted by Dell's work with a number of innovators including ImpactLABS, whom we expect will continue to provide some example of leadership in this work globally."
Read the full Dell 2017 Legacy of Good update online. ImpactLABS is featured on page 14.
###
About ImpactLABS
Located in New Bedford, MA, LABS pilots early stage IoT solutions with small and mid-sized businesses in Southeastern New England and a number of regional markets globally through our sponsor and partner network. We are helping the most innovative small and mid-sized enterprises to build more profitable and sustainable businesses.