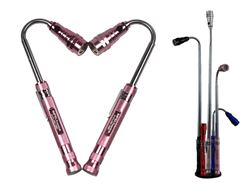 Here is a practical gift item that should not only warm the hearts of your personal "Valentine" but brighten their day as well.
Lewisberry, PA (PRWEB) January 20, 2014
IMPELtronics offers this 3 LED Extendable Magnetic Flashlight in Pink, Blue, Red, Silver and Black. This product is not only extendable from a compacted 6.75 inches but it can also be extended to almost 22 inches. In a time when budgets are strained and every dollar is being stretched, here's a practical Valentine's Day gift item that every female or male valentine can use around the house or car and workplace or garage. It should be in every tool box, craft kit or riding along with every vehicle.
If this product is not on the "short list" for this year's Valentine's Day gift item then maybe these endorsements would help. This product received multiple endorsements throughout last year among them being; Goss' Garage Segment on the nationally broadcast MotorWeek Show, NBC's Bay Area News segment Gadget Friday, and huntfishtalk.com radio out of Tennessee. These endorsements can be found referenced on the Impeltronics company website.
IMPELtronics, a wholesale manufacturer of high quality high lumen LED Flashlights, offers everyone a "strategic advantage against the darkness". Whether you're in search and rescue, hunting and fishing or in need of light and magnetism in any application, IMPELtronics invites everyone to "Light the Way".
To learn more about the product click here: http://www.impeltronics.com/products/extendable-telescoping-magnetic-flashlight/.
Media Contact
Michael Pastal
717-440-1680
mpastal(at)impeltronics(dot)com