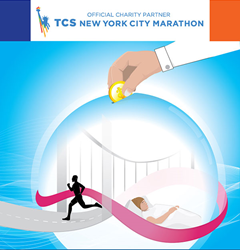 Three years after my brain tumor removal, I feel fortunate to run these 26.2 miles alongside my Imperial Advance colleagues and Fred's Team in the world's greatest city
New York, New York (PRWEB) September 27, 2016
Imperial Advance, a leading small business lending and financial services company in New York City, recently announced its generous fundraising support for employees joining Fred's Team, an Official Charity Partner of the TCS New York City Marathon. A team of Imperial Advance employees will be participating in the annual race through the five boroughs of New York City on Sunday, November 6, 2016 and raising money for cancer research and a cure.
Fred's Team is Memorial Sloan Kettering's athletic fundraising program dedicated to bringing everyone closer to a world without cancer. Since 1995, Fred's Team has raised over $65 million. The money the program raises goes directly to Memorial Sloan Kettering, which not only improves cancer research and care at Memorial Sloan Kettering, but also helps spark progress at centers worldwide.
"Several members of the Imperial Advance family have signed up to participate already and our minimum donation goal is $10,000," explains Michael Pennartz, Vice President of Imperial Advance. "We are all first time marathon runners -- both as individuals and as a company -- this is by far our biggest charity effort ever and we are very proud to support this worthy cause."
The money raised by Fred's Team participants supports over 50 areas of cancer research—including bladder, brain, breast, colon, colorectal, head and neck, kidney, leukemia, liver, lung, lymphoma, melanoma, multiple myeloma, neuroblastoma, ovarian, pancreatic, prostate, testicular, rare cancers and The Aubrey Fund for Pediatric Cancer Research.
Imperial Advance has a proud history of philanthropy and a demonstrated record of working closely with small and midsize business owners throughout the country on business financing strategies, including business term loans, merchant cash advances, revenue based financing and lines of credit to help grow and scale their business and contribute to their local communities.
For Imperial Advance, participation is also personal. Sales leader Misha Zeineddine is celebrating her survivorship from cancer.
"Here at Imperial Advance, we are determined to leave our footprint on the road to a cancer-free humanity. Three years after my brain tumor removal, I feel fortunate to run these 26.2 miles alongside my colleagues and Fred's Team in the world's greatest city," said Misha Zeineddine, Direct Sales Team Leader and brain cancer survivor. Click here to support and donate now.
About Imperial Advance
Imperial Advance, a leading small business lending and financial services company in New York City, provides small businesses the access they need to fast and affordable working capital. The company provides an unparalleled level of customer service and a commitment to helping all businesses achieve their goals.
Imperial Advance is proudly recognized by the Better Business Bureau (BBB) as an Accredited Business, achieving an A+ rating for its proven record of trustworthiness, ethics and commitment to outstanding client service.
For more information about Imperial Advance, visit http://www.imperialadvance.com/ or call 888-633-2083.