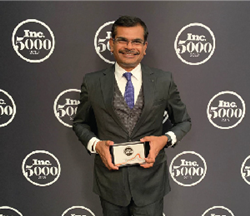 DALLAS (PRWEB) October 18, 2019
Inc. Magazine recognized Impiger Technologies, Inc. as one of the top 5000 fastest growing private companies in the United States at the annual Inc. 5000 conference held at Phoenix Arizona from 10th October to 12th October, 2019.
Headquartered in Dallas, Impiger Technologies, Inc. is a technical services and solutions organization helping companies achieve digital transformation to stay in vogue of the latest innovations that are impacting their respective industries.
Recognized for the fourth time in a row, Impiger has carved a niche for itself in the tech-realm and experienced a substantial growth in the current annual year. It demonstrated a 69% percent growth in 2019, 111% in 2018, 133% in 2017 and 124% in 2016. Impiger Technologies' COO RKM Venkatasubbu and CDO, Pradeep Gwalani were felicitated with this honor.
Impiger was bestowed with this recognition among a plethora of other honorees like Freestar, Mi-One Brands and many others who have displayed rapid progression and growth in just one fiscal year as compared to the previous year list.
The Inc. 5000 is the congregation of some of the most fast-paced organizations in the American market. In fact, the calculated valuation leaped to 454 percent amounting from the previous number of a staggering $237.7 billion giving way to 1.2 million jobs. All honorees, including Impiger were evaluated on the basis of revenue growth and the scale of development before being included in the Inc. 5000.
Founder's Message:
"It is indeed a moment of pride to be recognized by such a revered organization. This will definitely help us aim for further growth and development," states Mr. RKM Venkatasubbu.
About Impiger Technologies, Inc.
Impiger Technologies, Inc. is a 15-year old Dallas based digital transformation solution provider that offers expert solutions in the field of Mobile, Cloud, Web, IoT, AR, RPA and AI Technologies, catering to industries like Manufacturing, Logistics, Retail, Healthcare, Finance, and Services. With over 450+ professionals spread across the globe, Impiger is adept in offering guidance to small start-ups with big ideas all the way up to large Fortune 500 corporations searching for specific skills and/or resources.
About Inc. 5000
A part of the Inc publication, the Inc. 5000 is a list of top 5000 companies in the U.S that have grown extensively in the terms of revenue and in-house development. In order to qualify, companies must belong to the American ecosystem (not subsidiaries), be privately held. The minimum revenue generation threshold changes as per the market dynamics. The minimum amount for 2015 was $100,000 while 2018 qualifier was $2 million.