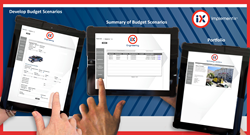 The main benefit of the new ix Engineering App is that it helps our clients spend their rebranding budgets wisely.
Denver, CO (PRWEB) April 03, 2014
Implementix, a nationwide rebranding company, announces the release of its ix Engineering App, designed to streamline the rebranding process for corporate vehicles.
Implementix works with corporate clients on all stages of branding and rebranding implementation projects using its four-step ix Brand Implementation Management system – Assessment, Value Engineering, Conversion, and Automation. The purpose of the ix Engineering App is to enhance the Value Engineering phase, where specific brand design objectives for converting previously branded cars, trucks, vans and shuttle buses are established in the most efficient, cost-effective way.
"The main benefit of the new ix Engineering App is that it helps our clients spend their rebranding budgets wisely," said Scott McLean, CEO of Implementix.
Using information gathered during the Assessment phase, such as make, model and usage of each vehicle, the ix Engineering App runs different scenarios to develop rebranding budgets for vehicles. Let's say a company has 1,000 pickup trucks and 1,000 vans, with 50 percent of each type of vehicle used by the service division for customer appointments, while the other 50 percent is used behind-the-scenes by the construction division. Using the new App, Implementix is able to advise companies how to best use their rebranding budgets to obtain the maximum impact in the marketplace. In this example, the company could choose a more substantial brand graphics treatment for vehicles in its service division and a less costly treatment for vehicles in the construction division.
The ix Engineering App models five different brand graphics coverage levels on various types of vehicles. The App can also show a portfolio of actual vehicles from prior rebranding projects completed by Implementix. In addition to determining the costs for installing new brand graphics, the ix Engineering App factors in logistics and the costs for removing existing brand graphics, providing clients with budget forecasts for multiple scenarios.
About Implementix
Implementix is a nationwide rebranding company that streamlines complex brand implementation projects to help corporations complete brand rollouts on time and on budget. Whether launching a new brand or rebranding after a merger or acquisition, Implementix provides project management services, ensuring the new brand identity looks professional in the marketplace. The Denver-based company works with national, regional and local companies in industries such as hospitality, telecommunications and cable/satellite, healthcare, financial services, food and beverage, and energy. To learn more about Implementix, visit http://www.implement-ix.com.