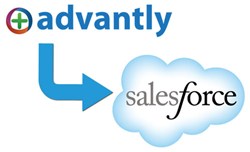 We make it as easy as possible for our clients to access their lead data when, how, and where they need it.
Grover Beach, CA (PRWEB) August 13, 2013
Advantly creates fully branded landing pages with trackable phone numbers and email forms for each client. When visitors make contact via one of these pages, the lead data is not only recorded in the client's Advantly dashboard, but is now also sent directly to their Salesforce system, enabling them to properly manage their leads for re-marketing and future communication.
"At the core of the Advantly offering is the transparency and flexibility of the data we attain for our clients," says Misty Lackie, CEO of Advantly, "so we make it as easy as possible for them to access their lead data when, how, and where they need it. Integrating with the leading CRM tool on the market streamlines our clients' sales funnel, saving them time and money."
Advantly is a full service lead delivery platform that provides qualified, exclusive leads and detailed ad and landing page analytics to its clients. Leads are sent to fully-branded company landing pages via targeted advertising on search engines, social networks, mobile networks, video portals and other targeted ad networks.
Salesforce is the leading enterprise cloud computing application. Their Customer Relationship Management (CRM) solution has won numerous awards and is one of the most popular CRMs on the web.
To learn more about how Advantly is revolutionizing the lead generation industry, visit http://www.advantly.com/.