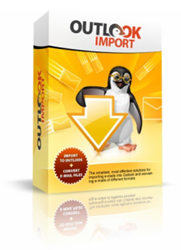 a compact and efficient solution for quick and hassle-free importing of email messages in EML, EMLX and MSG formats into Outlook.
San Diego, CA (PRWEB) March 17, 2014
Outlook Import Software, a leading developer of specialized data conversion and migration tools for popular office software and email clients, announces the availability of the latest update for Outlook Import Wizard. The new version of the program is faster and more stable thanks to multiple bug fixes and core optimizations, yet remains exceptionally user-friendly thanks to its highly intuitive interface. It also offers compatibility with the most recent Outlook patches and updates released by Microsoft. http://www.outlookimport.com/description/outlook-import-wizard/
The program is intended for ultra-fast unassisted conversion of messages in EML, EMLX and MSG formats either directly to Outlook or to a standalone PST storage file. Outlook Import Wizard was initially designed as the easiest means of transferring previously extracted emails to Outlook preserving the original folder structure and properly handling encoding conversion. http://www.outlookimportwizard.com/
Targeting a very broad audience, the software requires no prior training, no special knowledge, skills or qualification, and can be used with equal efficiency by professionals and basic PC users. Apart from email messages, the program flawlessly handles the conversion of other objects supported by Microsoft Outlook like contacts and tasks, saved in various formats, such as iCL, VCF and others. http://www.outlookimport.com/faq/
One of the biggest advantages of the program is its ability to process files in batches, thus allowing users to perform massive EML to Outlook migrations in a couple of mouse clicks. In addition to basic email importing, the software offers users a number of import options for extra flexibility, starting from EML preprocessing for Unix and Mac sources, creation of timestamped subfolders for each PST export session to preserving the original date and time of creation for exported files, and filtering source files by size, presence of attachments and creation date. Outlook Import Wizard is available in a number of European languages, has a compact installation size and requires no additional components to be download and installed prior to starting the conversion process.
"We are truly excited to present a new, deeply optimized and streamlined Outlook Import Wizard, one of the top products that our company is known for on the market," commented Atie Uhan, Head of Development at ISV. "The product remained just as intuitive and efficient as it used to be, but is now compatible with the latest Outlook patches. We encourage everyone facing the prospect of moving to Outlook to consider our product as the most convenient and powerful tool for EML to PST conversion."
The demo version of the program provides the full functionality of Outlook Import Wizard, yet restricts the number of items converted per session. http://www.outlookimport.com/download/