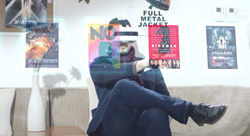 We hope that, through virtual reality, people will experience things they never thought possible
Charlotte, NC (PRWEB) March 26, 2015
Impression Pi, a virtual and augmented reality (VR & AR) headset, debuted last week on Kickstarter in concurrence with International Pi Day and quickly surpassed its $78,000 goal. As of March 25, Impression Pi has raised $128,225.
"We really put our heart and soul into developing Impression Pi," said CEO and co-founder Anli He. "We hope that, through virtual reality, people will experience things they never thought possible. Seeing my 70- year- old father use Impression Pi and virtually walk the moon was honestly the most rewarding experience of my career- it made all of this hard work worth it."
Impression Pi is powered by an extremely advanced computer vision system that combines sensor hardware and advanced algorithms. The computer-vision algorithm processes hand movements and gestures, then uses those movements to generate 3D gesture modeling. Impression Pi allows people to experience surroundings completely different than their own. For example (as mentioned above), Anli He's father was able to experience what it would be like to walk on the moon using Impression Pi.
One of the features that differentiates Impression Pi from other VR headsets is that its algorithm is optimized for mobile platforms, allowing users to interact with the VR content in a natural way and take phone calls, send text messages and view mobile content without taking off the headset. Impression Pi is also unique because of two key features:
1) Augmented reality overlay: the real world overlaps the virtual world.
2) Position tracking: the view changes with the consumer's body movements.
Impression Pi will continue funding on Kickstarter until May 7. For $79, backers can receive a headset for their smartphone and a VR headset. Backers can receive a completed interactive VR headset with an embedded board that contains a camera sensor and vision control model for $249. For developers, there is a $314 reward that includes the complete package plus enrollment to a program that offers special software support. Visit http://bit.ly/ImpressionPiKs before May 7 to contribute and receive an Impression Pi.
About USENS Inc.
Impression Pi was developed by USENS Inc., which was co-founded by Dr. Yue Fei, Anli He and Dr. Chris Shi. Before starting uSens, their team of scientists and engineers worked on cutting edge products such as Intel microprocessors, iPhone and GoPro. For more information about Impression Pi and the USENS team, visit http://www.impressionpi.com and http://www.usens.com