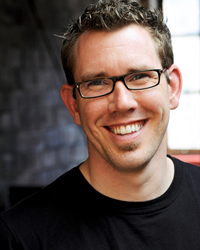 I get business people to say yes, listen, connect, make each other look good, embrace failure, and be positive. - Galen Emanuele
(PRWEB) March 05, 2014
"Yes, and…" Those two simple words, the core concept of performance improv, also are being used by Shift Yes to create positive changes in businesses and organizations.
Shift Yes recently was founded by Galen Emanuele, who has almost 10 years of experience in performing and teaching improv. Emanuele has performed throughout North America, including appearances with television star Ryan Stiles.
Emanuele, who also has 16 years of sales and marketing experience, is using the principles of improv to make dramatic improvements in the culture and communications of groups.
"Through creative, thought-provoking exercises, I will have your people saying yes, being connected, engaged, and making each other look good – resulting in fired-up teams interacting more effectively in business," he said. "Participants will be energized and inspired, gaining powerful skills that result in a more cohesive, intentional and positive culture."
Emanuele works with any size group, ranging from small, core teams at leadership retreats up to keynote addresses for thousands of attendees. His wide range of clients include corporate executives, health care professionals, engineers, colleges and universities, financial institutions, and sales representatives.
"I get business people to say yes, listen, connect, make each other look good, embrace failure, and be positive," Emanuele said. "And it's done in a compelling, entertaining way that's much more fun and impactful than typical professional development."
For more information, visit http://www.ShiftYes.com or call (360) 303-3590.