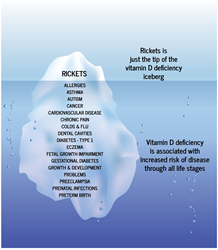 When you start with vitamin D sufficiency in utero it is like filling up the gas tank before your summer road trip – you are setting up for health success.
Encinitas, California (PRWEB) June 20, 2016
GrassrootsHealth, an international nonprofit public health promotion organization, will launch its Protect Our Children NOW! vitamin D demonstration project in the Missoula area at the Western Montana Clinic (WMC). Protect Our Children NOW! will be available at no cost to all pregnant women receiving care at the clinic. The project will include patient and health care provider education, screening and vitamin D supplements.
"We're very excited to launch Protect Our Children NOW! in Montana," said Carole Baggerly, founder and director of GrassrootsHealth. "This is a wonderful opportunity to improve health outcomes and save lives, starting in utero. We aim to reduce the incidence of preterm births, as well as positively influence the health of pregnant moms and lower the prevalence of early childhood diseases associated with vitamin D deficiency. When you start with vitamin D sufficiency in utero it is like filling up the gas tank before your summer road trip – you are setting up for health success."
Research demonstrates one potential complication of vitamin D deficiency in pregnancy is premature birth. Premature births are closely associated with cerebral palsy, mental impairment and permanent hearing loss among other deficiencies. According to the March of Dimes, approximately 1300 infants were born prematurely in Montana in 2013, giving the state a preterm birth rate of 9.3%. The total annual cost is estimated to be $71MM for the state. 50% of this cost, $35MM, could likely be saved annually based on demonstrated research, and, 650 babies and their families could possibly have this trauma prevented solely with vitamin D supplementation to the pregnant mother. Montana currently holds a grade C in preterm birth rate, and is ranked 29th in the nation.
"Pregnancy is a time when a woman is responsible for her own well-being, and that of her developing baby, a process that continues during lactation," said Mary Pittaway, MA, RD, former public health official in Montana for 30 years. "Getting enough vitamin D while pregnant and nursing, is an important step in protecting mothers and their infants. It is good public health."
As part of this project, WMC will add a 25(OH) vitamin D test to the panel of prenatal labs. Upon reviewing the results of the test, participants will receive free vitamin D supplements, compliments of NOW Foods and Carlson Labs, as well as educational materials, access to an online forum, and a local project educator for questions and support. Further blood tests will measure vitamin D serum levels at 24 weeks and at 36 weeks gestation. GrassrootsHealth will be receiving de-identified medical data for all prenatal patients at WMC to analyze not just the effects of vitamin D serum level on prenatal and newborn health outcomes, but also how vitamin D education to the medical staff affects treatment and care of the pregnant women. This monitored translational methodology allows research to move into practice very quickly (3 years) versus the standard 15-25 years.
"NOW's mission is to empower people to lead healthier lives," said Jim Emme, CEO of NOW Foods. "We are honored to partner with GrassrootsHealth to provide Vitamin D to these pregnant women in an effort to have a positive impact on their pregnancies as well as the future health of their babies."
"As a neonatologist, researcher, and lead researcher for Protect our Children NOW!, I am excited to see this program expand to Montana," said Carol Wagner, MD, professor in the department of Pediatrics at Medical University of South Carolina. "We have been running this program in South Carolina for two years and have incorporated vitamin D testing and supplementation into our prenatal standard of care. I have been researching vitamin D in pregnancy and lactation for 15 years, and our most recent meta-analysis compared past randomized control trial data with NHANES data found that women who achieve a serum level of 40 ng/ml or above during pregnancy have a 59% lower risk of preterm birth when compared to women with serum levels less than 20 ng/ml."
"This translational research project aims to reduce the pain and suffering for babies and their families," said Maria Wines PhD, RN, a researcher from Montana State College of Nursing. "The evidence is clear, normal vitamin D levels in pregnant women decrease the chance of preterm birth. As most Montanan's know, we suffer from some vitamin D deficiency - especially during our long winters. It would be negligent not to treat pregnant women found to be deficient. Additionally, we can save tax payers millions of dollars a year by decreasing preterm births. Montana State University College of Nursing is excited to be part of this project. Putting evidence into practice is what nursing is about."
Doctors and nurses at WMC will also receive additional education by completing two one-hour continuing medical education activities on the importance of vitamin D testing and supplementation in pregnant women.
About GrassrootsHealth
GrassrootsHealth is a nonprofit public health organization dedicated to moving public health messages regarding vitamin D from research into practice. It has a panel of 48 senior vitamin D researchers from around the world contributing to its operations. GrassrootsHealth is currently running the D*action population intervention program to solve the vitamin D deficiency epidemic worldwide. Under the D*action umbrella, there are programs looking at the entire population as well as targeted programs for breast cancer prevention and a 'Protect Our Children NOW!' program to reduce the complications of vitamin D deficiency encountered during pregnancy and childhood.
About Western Montana Clinic
The Western Montana Clinic has been providing care to Western Montana since 1922. They are a group of 62 healthcare providers in 14 specialties with close ties to other regional specialists and local hospitals.
About NOW Foods
Founded by Elwood Richard in 1968 on the belief that natural is better, NOW has become one of the most highly respected manufacturers in the natural products industry. Still a family-owned company today, NOW offers more than 1,400 dietary supplements, foods, sports nutrition and personal care products. NOW is committed to offering safe, affordable products of the highest quality. After more than 45 years in the natural products industry, NOW remains committed to its original mission – to provide value in products and services that empower people to lead healthier lives. http://www.nowfoods.com
About Carlson Labs
Carlson Laboratories has been recognized as an innovator and leading educator in the field of high-quality nutritional supplements. They offer more than 250 vitamins, minerals, fish oils, and other supplements designed with your family's unique nutritional needs in mind. http://www.carlsonlabs.com
For health care providers or other insurers interested in learning more about or participating in POC, please contact Jen Aliano at 800-324-8139 or jen(at)grassrootshealth(dot)org or by visiting http://daction.org/poc/.