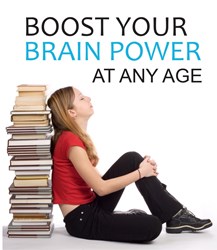 BrainGenX has helped students improve their mental focus without taking high sugar energy drinks.
Adel, IA (PRWEB) October 03, 2013
M and M Beauty and Wellness is pleased to announce that their BrainGenX is now back in stock and is available for immediate purchase on Amazon. Released to the marketplace just five weeks ago, there has been incredible demand for this amazing memory enhancer since its introduction to the marketplace.
Developed and tested in FDA-approved laboratories, BrainGenX™ is dedicated to memory improvement in the academic experience safely and naturally balancing the body's hormone levels. Plus, BrainGenX™ is easy to digest, contains no artificial colors and flavors.
"College students are inherently challenged with a lack of sleep and bombarded with all the distractions the college experience has to offer." commented Gregg Lambi, the Head of Product Development at M&M Health and Wellness. "Their usual remedy is to amp up on coffee or high caffeine, high sugar energy drinks. This has the effect of creating additional anxiety in an already stressful, test-taking scenario. BrainGenX promotes a calm, relaxed, focused mental state instead of the usual caffeine-induced anxiety."
BrainGenX™ is available on Amazon.com at http://www.amazon.com/BrainGenX-Brain-Memory-Improvement-Phosphatidylserine/dp/B00CX733IE For a very limited time, BrainGenX is available for $10.99, which is a significant discount off the regular list price of $39.95. Plus, students can take advantage of Amazon.com's "Super Saver" option and pay no shipping fees.
Students looking for that classroom edge can try BrainGenX™ for at least two weeks. If, within 30 days of the initial purchase, they are not 100% satisfied, they can contact M&M Beauty and Wellness for a full refund.
About BrainGenX
BrainGenX is committed to delivering quality products that support health and mental well-being naturally. All of the company's products are made in the USA, and in FDA-certified and Inspected manufacturing facilities. Learn more at http://www.braingenx.com.
Standard Disclaimer: The statements made in this press release have not been evaluated by the FDA (U.S. Food & Drug Administration). BrainGenX™ is not intended to diagnose, treat, cure or prevent any disease.